Unser Weg zum Glück!!!!!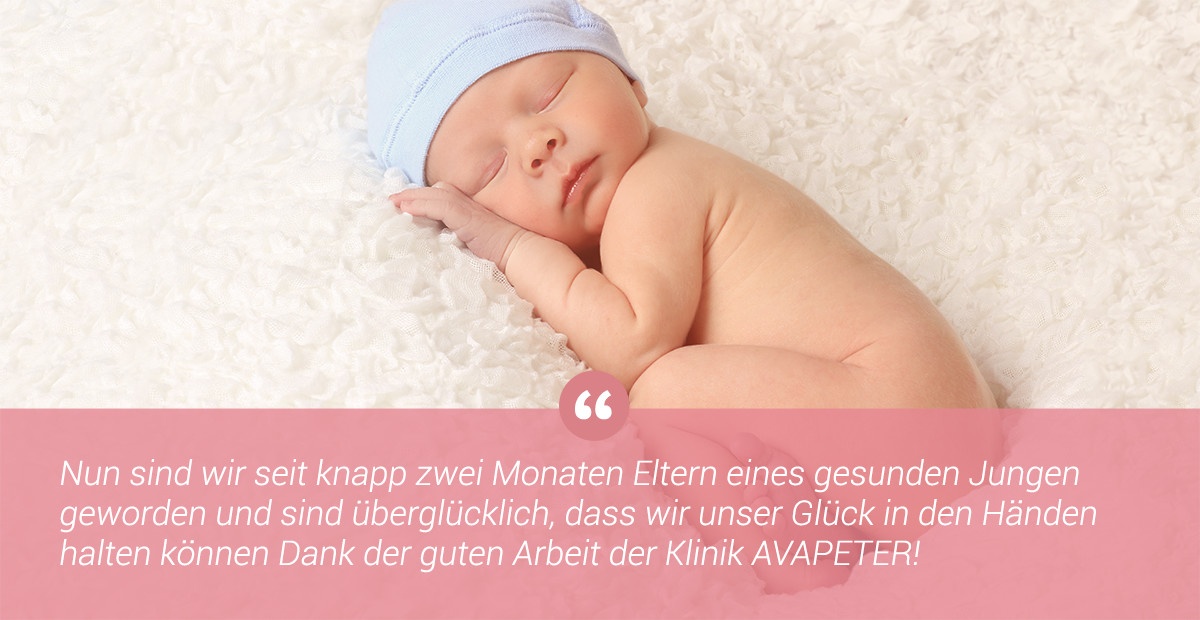 Would you like us to provide you with contact of our patients, who became parents after IVF, egg or embryo donation?
Hallo, ich erzähle euch heute meine Geschichte.

Nach 1,5 Jahren vergeblich schwanger zu werden, haben wir uns an das Kinderwunschzentrum in Siegen/Dortmund gewannt.

Nach den Untersuchungen des Kinderwunschzentrums, wurde festgestellt, dass ich die Eizellenbildung erhöhen muss. Nach einer teuren Medikamentenzusammenstellung, die noch teurer wäre, hätte man nicht die Möglichkeit in Frankreich die gleichen Medikamente per Rezept zu holen, haben wir mit der wochenlangen Vorbereitung begonnen.

Leider waren meine Eizellen unfruchtbar gewesen. Diese Methode haben wir nach eine Erholungsphase wiederholt.

Als auch bei dem zweiten Versuch die Eizellen sich als unfruchtbar herausgestellt haben, waren wir mental sehr am Boden zerstört!

Als wir verzweifelt nicht mehr weiter wussten hat uns ein Arzt in Vertrauen die Klinik in Sankt Petersburg empfohlen.

Wir haben uns nach kurzer Überlegzeit und einiger Recherchen im Internet mit der Klinik in Verbindung gesetzt.

Nach kurzer Zeit haben wir eine Antwort aus der Klinik bekommen. Nach kurzer Korrespondenz in zwei sprachen Russisch/ Englisch, hat sich eine Mitarbeiterin der Klinik und auch die Ärztin in deutscher Sprache zurück gemeldet.

Schon bald haben wir ein Termin ausgemacht. Mit dem Vertragsausdruck, den wir wegen genügend Zeit gut studieren konnten, sind wir zum ersten Termin nach Russland geflogen.

Bei dem ersten Termin wurden die letzten Fragen zu dem Behandlungsvertrag geklärt und nach der Unterschrift vor Ort ,sofort mit den ersten Untersuchungen begonnen. Bei dem Termin wird auch die Optik der Frau beschaut um möglichst eine ähnliche Spenderin der Eizelle zu finden.

Diese Termin dauert mehrere Tage, da die Laborergebnisse einige Tage dauern.

Es wird schon vor der Abreise ein Behandlungsplan übergeben.

In der Vorbereitungsphase haben wir ständig Kontakt mit der Klinik gehabt.

Erst als die Laborergebnisse aus Russland die optimale Vorbereitung bestätigt haben, wurde der Eingrifftermin in Russland vereinbart.

Während meiner Vorbereitung in Deutschland, hat die Klinik eine Spenderin gesucht und auf die Eizelle Abgabe vorbereitet.

Direkt bei dem ersten versuch wurde ich schwanger, aber leider verlor ich das Kind am Ende 7. SSW.

Da noch Embryonen im Labor vorhanden waren, haben wir nach längerer Erholungsphase den zweiten Versuch gewagt.

Bei dem zweiten Versuch wurden die Medikamente neu angepasst. Ich wurde schwanger!

Nun sind wir seit knapp zwei Monaten Eltern eines gesunden Jungen geworden und sind überglücklich, dass wir unser Glück in den Händen halten können Dank der guten Arbeit der Klinik!!!!!!

Freuen uns auf ein Wiedersehen mit den Mitarbeitern und Ärzten der Klinik in den nächsten Jahren!!!
29.12.2016
Neuigkeit