Your Clinic, egg donation — words that changed our life for the best!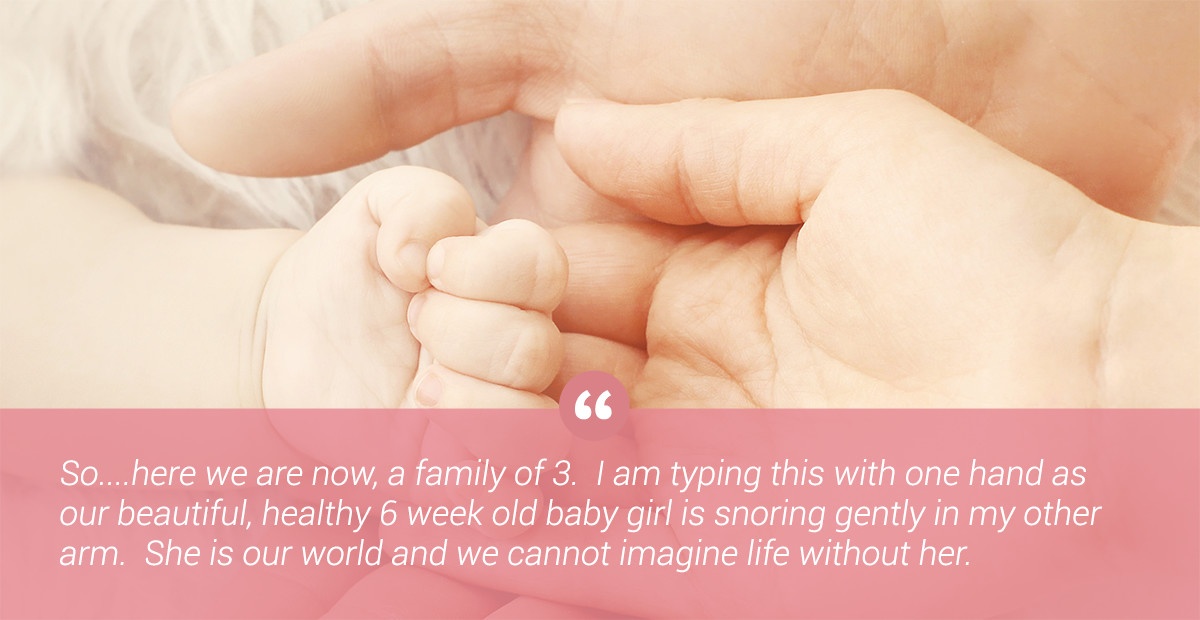 Would you like us to provide you with contact of our patients, who became parents after egg donation or embryo adoption
After 3 miscarriages and 3 failed IVF attempts with our own eggs, with unexplained infertility and increasing age, we were told by the clinic in the UK that a positive outcome would most likely be with using egg donation. We signed up to their waiting list immediately, despite being unsure at that stage if this was the right decision for us, as we were told egg donation was scarce in the UK, and it could take 6 months or so to even get one with similar colouring to me. We had some good counselling sessions with our UK clinic and gradually came to accept that this would definitely be right for us. 9 months on, however, there was still no sign of a donor in our clinic and we were sure we didn't want to waste any more time - I was 41 by this point and we'd been trying for 5 years.

We decided an overseas clinic would be quickest, so we did a lot of research online, reading forums for recommendations, and we kept coming across good reports for the same 2 or 3 clinics abroad, one of which was the Clinic in Saint-Petersburg.

The research got us our short list of clinics to approach, which we carried out in a very methodical manner by sending out a questionnaire to each. Tamsin, the coordinator at the Clinic that we finally chose, was the first to respond, and was the most thorough. The attention to detail and responsiveness of the Clinic's team have remained a constant throughout our treatment. Another reason we chose this Clinic in the end was due to their excellent egg donor database where we were able to really select the egg donor which suited us, rather than leaving it to the clinic to decide. We were extremely impressed with the speed that Tamsin responded to our emails and calls, even before we had paid any money. It seemed like a very caring and professional place which put the patient at the heart of it all. We also appreciated the support from the Donor Coordinator and Dr Olga, who we both spoke to via Skype, to make sure our choice of an egg donor was the right one for us. After all, it is a huge decision to make, and they understood this and took our questions and concerns seriously.

The help we got with arranging our visits to the clinic was great. On arrival we were collected from the airport and the drivers were superb and very friendly & knowledgeable, giving us a guided tour of St Petersburg.

The treatment itself was excellent and Dr Olga ensured I had numerous extra medical checks to ensure the embryo transfer was a success. The ET was in fact the most relaxed I had ever had! The staff were lovely, supportive and everyone spoke amazing English there. To make this surreal experience feel more "normal" we treated it as a sort of weekend away, and had a lovely time outside of the treatment sightseeing the gorgeous city.

We couldn't believe it when our blood tests back in the UK showed a positive pregnancy! The start of the pregnancy was still brilliantly supported by the Clinic's team who quickly replied to any concerns we had. The pregnancy was very straightforward and at every check the baby was healthy and growing well. I also benefited hugely from the Skype counselling sessions, both before treatment and during pregnancy, where the counsellor was understanding of my fears and very supportive.

So....here we are now, a family of 3. I am typing this with one hand as our beautiful, healthy 6 week old baby girl is snoring gently in my other arm. She is our world and we cannot imagine life without her. I cannot thank enough the staff at the Clinic for enabling our dream to come true. I will also be forever grateful to the kindness of the egg donor without whose generous act we would not have our little girl. Her desire to help others has changed our lives. When she is older, I will tell our daughter about the lovely lady who helped us meet each other, as it is part of our daughter's story. There is much support available in the UK for egg donor conceived children so we feel confident we will do the right thing for her in this respect.

One year ago we were facing the challenges of IVF with egg donation and the possibility of never having a family. Now we are facing the challenges of life with a newborn: sleeping, feeding, burping and changing nappies!

Undergoing any sort of ART is a huge decision, emotionally, physically & financially, let alone with an egg donation involved too. You have to take a leap of faith...and for us it has paid off a hundredfold. I have to say we would highly recommend our Clinic for making the journey as smooth and successful as they could. Dr Olga is wonderful!!

It's too soon to say what the future holds, but we know we have more healthy embryos at the clinic should we wish to try for a full sibling. For now, though, we are just so thankful for our little miracle....sleepless nights and all.
Helene, UK
07.11.2016
All success stories