Dreams do come true with the help of egg donation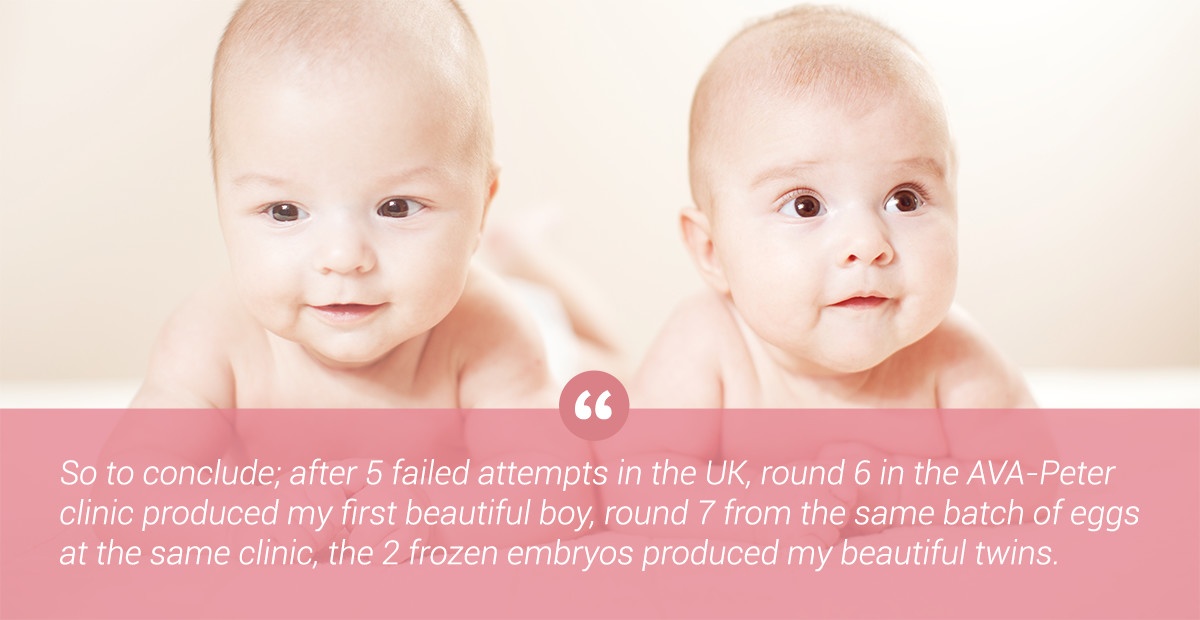 Would you like us to provide you with contact of our patients, who became parents after egg donation or embryo adoption
You will find the first part of my journey on this website titled Dreams do come true dated 15 January 2013.

The round of IVF that had resulted in my first son being born had also produced 2 blastocysts, which were of good enough quality to be frozen.

Life was perfect and I had my much dreamed of child — he was completely, 100% selfishly for me and I doted on him, but I kept thinking of the 2 frozen embryos that I had remaining, that they were potential babies and that what I now wanted more than anything was for my boy to have siblings.

Having him later in life (40), it played on my mind that I would never want him to be lonely and when the inevitable happens to me, I would want for him to have the love and support of siblings and for them to have him.

So I contacted my consultant in the UK and Olga Zaytseff and discussed the process of transferring the frozen embryos.

Again the personal treatment was impeccable, I felt like I was talking to old friends.

The treatment was started and all the plans put in place. We travelled to St Petersburg late November all the while hoping and praying that the embryos would defrost without too much / any cell damage. Thankfully all was fine and the transfer was to take place the next morning. I hardly slept. I was missing my boy terribly — I had left him at home with my mum and I was so nervous about the treatment. Not the procedure itself but the result.

Both embryos were transferred and I didn't feel a thing. I then had the agonising 2 week wait for the result all the while feeling so grateful that whatever happens I have my beautiful boy already.

I needn't have worried — the pregnancy test showed positive very quickly indeed, I could hardly believe it, we were to be lucky again. I went for my 6-week scan with my consultant and I nipped to the loo just before the scan. My consultant joked with my husband saying that there was a special offer this month — buy one, get one free…5 minutes later when I had my scan, he said, well I know I joked earlier, but guess what, I was telling the truth, you are indeed having twins!!!

There was lots of crying and laughing and I was even higher than cloud 9. I was always open to whatever mother nature (and friends) had in store for me and I just could not believe my luck. She must have known I could cope and that I would thrive on the challenge.

On the 23 June 2014, 5 weeks premature (delivered early due to the size of me and them) my doctor performed a C-Section and delivered my beautiful twin boys, weighing in at very healthy 6lb 14oz and 7lb 04oz – thank goodness they didn't let me go full termJ - my first boy weighed 10lb 4oz — I wouldn't mind but I am not big myself at all

So to conclude; after 5 failed attempts in the UK, round 6 in Dr Olga's Clinic produced my first beautiful boy, round 7 from the same batch of eggs at the same clinic, the 2 frozen embryos produced my beautiful twins.

The end of the road could not be more perfect and I will never stop being grateful to my doctor, Olga Zaytseff and all the wonderful staff at the Clinic.
25.01.2017
All success stories