Egg donation is not the method of choice — it is the method of exclusion
"...If I would have known at the start, what I know now, I would not have done my IVF-attempts at my age as egg donation gave us result straight away. It was the best decision of our lives!"
Karin and Pedro, Sweden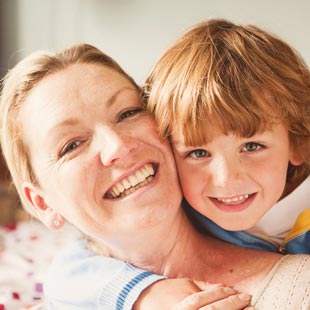 At O.L.G.A. Fertility Clinic we understand that egg donation is not always an easy decision to make, or step to take. There are many reasons why a woman may require egg donation and different journeys that they will have taken before reaching us, but whatever the reason, or however different the journey may have been, here at O.L.G.A. Fertility Clinic we know that we can support you and help you create a healthy pregnancy and healthy baby.
In O.L.G.A. Fertility Clinic we are certain that there is every chance for you to have a baby when using egg donation, if you have good general health and a healthy uterus. Even if you may have some health issues we will do our best to prepare your body and your uterus for pregnancy and with years of experience we know exactly how! Some patients will need just 1-2 attempts to get pregnant through egg donation, some will need more. If it takes time to get pregnant we will find the medical reason why, solve it and get you pregnant!
Unsure about your own chances?
Whatever your doubts, or concerns may be please do not forget your wish to become a mother! Our excellent results in egg donation have enabled us to offer a "Baby Guarantee" to all women in the age of 49, or under, who would like to protect themselves against bad luck! We are so sure of our egg donation success rates that if our patients do not deliver a baby within 3 IVF egg donation tries we will return to 80% of their money back to them.
Interested?
Why O.L.G.A. Fertility Clinic?

We are happy to welcome all women up to the age of 51 and do not have waiting lists for treatment!
Whether married, in a same sex relationship, or single we are happy to welcome all women up to the age of 51 into egg donation treatment at our clinic, after thorough medical evaluation.

You can get FREE access to the only Comprehensive
Egg Donation Database in Europe!
We can offer you the only Comprehensive Database of Egg Donors in Europe, enabling you to choose your own egg donor with extended profiles and photographs, until the age of 12 years old:
In total we have more than 600 loyal, healthy, attractive, educated young egg donors
Approximately 180 egg donors are available on the database, at any one time, for you to personally choose from – you will always have the opportunity to find an egg donor that match your looks- eye, hair, height, skin colour, skills etc.
All of the egg donors that you can see in the Database are ready to start with ovarian stimulation and can be timed in line with your own preferred dates for egg donation treatment.
The database offers you access to 150 personal details and photographs of each egg donor until the age of 12, with personal letters about their own reasons for becoming an egg donor.
If you require any assistance with choosing your egg donor we will be only too happy to help! We can guide you through the Database and help you to make the very best choice of egg donor that meets your own personal needs and wishes.
Wishing to view our egg donors?
With thorough and comprehensive medical testing of all of our egg donors we ensure that our patients have the best outcomes in the short and long term perspective. Potential egg donors are seen by 3 medical doctors: a GP, a Gynecologist and a Psychiatrist. We meet all potential egg donors in person, take detailed medical history of their families (parents, children and siblings) and request photos of them as a child and adult. Only 10% of potential egg donor candidates are accepted!
We know that 'as much information as possible' about the donor is very important for many of our patients. For some women it is 'the look' and for others it is "the right feeling" that is most important when they choose their donor. Our database will give you the opportunity to be fully involved in the treatment that will create your child. We know that the information about the donor is important, but we also know that the egg donor is NOT the most important person in this project, the most important person is you! The egg from the donor will never develop into a child by itself, the egg needs a uterus and sperm and you are the one that combines these pieces together to create your child. You are the parent to this child's existence!

You can receive a 'Baby Guarantee'!
The 'Baby Guarantee' egg donation programme at O.L.G.A. Fertility Clinic is the only one in Europe!
According to the preliminary calculated results of the year 2017, we are proud to announce that the overall success rates in all our donation programmes have risen, time to pregnancy has shortened and our financial risks have reduced. Due to this excellent outcome in 2017 we are happy to reduce our baby guarantee programme costs with the new price of 21 900 € for Egg donation baby guarantee.
3 Package Egg Donation Programme with Baby Guarantee

80% refund if no is baby born within 3 x IVF/ICSI with donor eggs

21 900 €
Want to protect yourself against bad luck?
Find out more!

You can also get excellent egg donation guarantees in all of our egg donation programmes at O.L.G.A. Fertility Clinic!
In all egg donation programmes at O.L.G.A. Fertility Clinic you are provided with the maximal chances of having your baby, at the soonest time frame and with minimal cost. We offer you the following guarantees in our single cycle egg donation programmes:
Egg Donation
Programme Description

Single Egg Donor IVF Cycle with 10 fresh eggs and Guarantee of at least 3 Blastocysts

Price

9 990 €

Guaranteed number of fresh donor eggs available for the recipient

10 fixed

Guaranteed amount of Blastocysts on day 5 available for embryo transfer and/or freezing

3 or more
Have questions?

You receive excellent care!
We offer you excellent medical care and full support before, during and after your trip to St Petersburg:
You will be assigned your own patient coordinator, helping you with all information about egg donation, practical arrangements and questions throughout your egg donation journey at O.L.G.A. Fertility Clinic. Your coordinator will assist you with all aspects of your trip (flights, hotels, airport transfers and visas if required).
You get professional advice on your egg donor choice from our egg donation team
You will receive an efficient and individually designed egg donation treatment that meets your own personal needs and wishes
Your personal family counsellor will ensure that you have the tools to cope with your egg donation treatment emotionally and mentally and will enable you to have a good quality of life during and after egg donation treatment.
We will ensure that you feel confident and comfortable with your medical team (doctors and nurses).
You will have your personal skype meeting directly with the doctors.
You will receive medical information and answers to your medical questions promptly through your personal coordinator, working in direct contact with doctors and nurses.

The whole egg donation treatment is in just one visit to our clinic!
We can offer you the opportunity of visiting our clinic for just a one day stay in our egg donation programmes (sperm freezing visit for one day for the male partner and one day visit for embryo transfer for the female partner). We recommend an extra day stay for the female partner so that we can fully advise and support you after embryo transfer with recommendations on how to keep your pregnancy.
Having questions about the egg donation process?
You will need some small amount of help from your local doctor: prescription for medication and two ultrasound examinations of your uterus. If you have any difficulties to find a local doctor to assist you we can refer you to a local consultant that we already collaborate with (please ask for more details)
Need help with arranging your pre-treatment in your home country?