Egg donation is not the method of choice — it is the method of exclusion
After 3 IVF in Sweden, 3 miscarriages, Elisabet and Pär became parents of lovely Ester through egg donation in St. Petersburg
What is egg donation treatment?
Egg donation treatment is a process of creating an embryo in a test tube from a donor egg and your partner's (donor) sperm, followed by replacing this embryo into your uterus. As a result of such egg donation treatment the chance of achieving pregnancy in your uterus and live birth is very high.
Do the chances of getting pregnant with donor eggs depend on the female age?
When using own eggs for IVF pregnancy and live birth rates significantly depend on the age.
Is it the age of the egg, or the age of the uterus which matters?

Success rates by age for egg donation and own egg IVF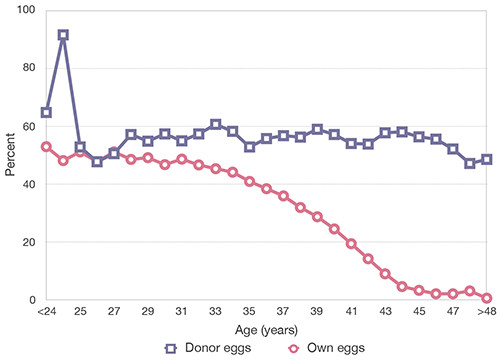 Figure 1. Percentages of Transfers That Resulted in Live Births for Assisted Reproductive Technology (ART) Cycles Using Fresh Embryos from Own Eggs and ART Cycles Using Fresh Embryos from Donor Eggs, by Age of Woman, 2009. Reference: American national summary on assisted reproductive technology success rates, National Center for Chronic Disease Prevention and Health Promotion, December 2011
Data from 84 039 embryo transfers with fresh non-donor eggs and 16 225 embryo transfers with fresh donor eggs
Pregnancy rates and live birth rates in donor egg cycles depend on three parameters: the age of the egg donor, the quality (morphology) of the transferred embryo, the thickness of endometrium in the recipient.
You see you have the same success excellent success rates whether you are in your 30s, 40s or even 50!
What are the success rates when using donor eggs at O.L.G.A. Fertility Clinic?
Clinical pregnancy rates after fresh embryo transfers in fresh donor egg cycles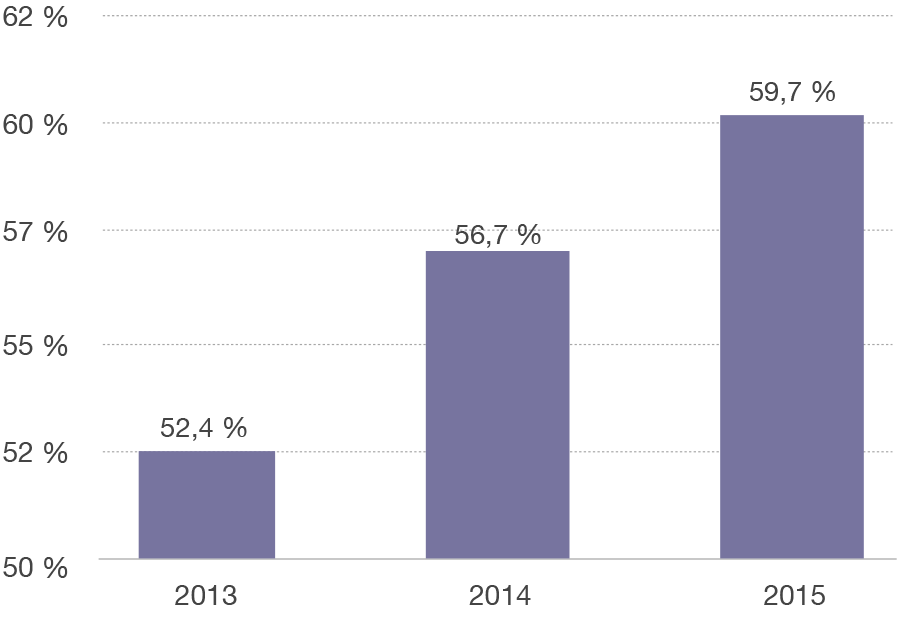 Since 2015 we have stable pregnancy rates of above 60 % and live birth rates of above 49% per each fresh embryo transfer in donor egg cycles.
What egg donation guarantees do I get at your clinic?
Many patients who come to us for egg donation have had IVF with their own eggs in the past with a low amount, or no eggs/embryos available for usage. They have the fear that this may happen again, even with donor eggs.
We offer you the following egg donation guarantees of eggs and embryos:
8 eggs/2 embryos for usage (transfer/ freezing) on day 5
12 eggs/4 embryos for usage (transfer/ freezing) on day 5
Many patients have already spent years and a great deal of money on their "child project". They are there for afraid that they may spend lots more time and money in the future and still have no baby, even with donor eggs.
We offer you a Baby Guarantee. Interested?
Request a free phone consultation
May I make my own choice of an egg donor in my egg donation IVF?
Yes! We are very happy to offer you the opportunity of choosing an individual egg donor from our extensive Egg Donor Database, the only one of its kind in Europe!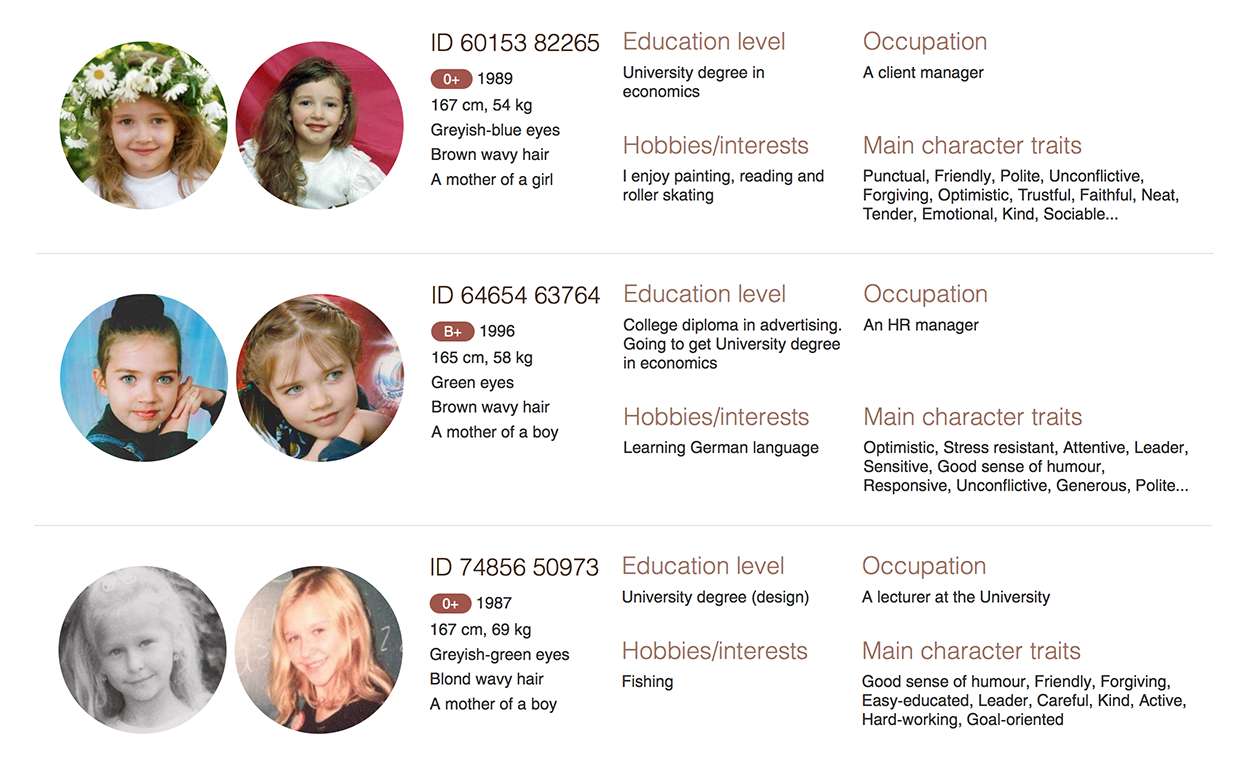 We can provide you with full access to the database for free, enabling you to choose, from many extended donor profiles, your own egg donor based upon your own priorities and human values (over 200 personal details about each donor, their family and their personal values).
Would you like to receive access to the Database of egg donors?
Need help/free advice with donor choice?
Can I see photos of the egg donors available for egg donation?
Through the use of the egg donor database you are able to access photos of egg donors until the age of 12years old. Along with the extended egg donor profile the photos help you in your choice of an egg donor. Our patients can keep this information for the future should they wish to share with their children about their egg donation IVF.
How soon can I start my egg donation IVF treatment at your clinic?
You can start your egg donation IVF treatment as soon as you would like to and in a time frame that is suitable for you! All we ask is that you just tell us the time frame you would like to visit the clinic for your embryo transfer and which egg donor you prefer, the time frame that you choose can be totally independent of your menstrual cycle pattern. We will then work your individual treatment plan around these dates, ensuring that you can plan in advance your travel and vacation timings. With the assistance of a local doctor, in your home country, you only need to visit us once as all other preparation can be carried out distantly.
Having questions about egg donation process?
Need help with organizing your trip?
Where do the eggs for egg donation come from?
For the egg recipient and her future child the role of the egg donor is huge. Through our detailed psychological interviews we accept only 10-20% of potential egg donor applicants at our clinic for future egg donation, thus making sure we have only nice, educated, motivated healthy young women with reliable social background, who have their own healthy children and strong respect to mothers and motherhood. All our egg donors have to write their own personal motivation letters which are available in their individual egg donor profiles on our Egg Donor Database.
Through thorough medical laboratory testing of our potential egg donors we ensure that donor eggs received for your egg donation IVF come from healthy young women, with high fertility potential, excellent medical history and psychological profile.
Who is allowed to become an egg donor?
The regulations for becoming an egg donor are very stringent, both legally and within our clinic.
By law in Russia egg donors must be under the age of 34 and have children of their own.
At out clinic we have reduced this cut off age to 32 as we feel that this increases the egg donors medical abilities and fertility potential, ensuring only low dose stimulation and treatment are required to produce many, excellent quality eggs for use by the recipient.
What tests do the egg donors undertake before their egg donations?
To become an egg donor at our clinic is not a quick, or easy process!
Many women contact us with the desire to donate their eggs, we only accept around 10% of candidates.
The first step in the process to becoming an egg donor is an interview with our egg donor team, this helps us to better understand the potential donor's primary motivation for egg donation. Having successfully passed through the interview, a potential egg donor is required to complete a full disclosure of their medical history and complete our extensive questionnaire.
Once the medical history and questionnaire are completed they are required to have the full laboratory examination and to be seen by three medical doctors: a GP, a Gynaecologist and a Psychiatrist. The psychological assessment ensures that a future egg donor understands the long term consequences of her egg donations.
Through this process we can ensure our patients have access to egg donors that will make their future dreams of a family come true, with the security that the egg donor will not only have excellent medical and psychological prospective surrounding treatment. Also that our egg donor recipients will have the stability of egg donors ready and willing to donate, as well as those donors that have a full understanding of the bigger meaning and the long term consequences of their egg donations.
Why do egg donors donate?
There are many personal and social reasons why women choose to become an egg donor, many egg donation recipients feel that this must be due purely to financial benefits.
However, although egg donors receive a small financial contribution for their donations this is not the sole reason they choose to donate and through the initial assessments they undertake with us any potential egg donor that is donating purely for financial reasons are not accepted.
During their assessment potential egg donors are asked to write their own reasons and motivation for donating
Potential egg donors also have their own children and see the wonder that this brings to them and their family, they wish to help other women experience the wonders of having their own child.
Many potential egg donors report they have seen their own family members struggle with infertility and feel that they can help other women to become parents. Many potential egg donors feel they have a gift that they can give to others, a gift that brings them happiness, excitement and joy – they want to feel they have shared their own fertility with others so that they too can experience this wonder of creating a new life for themselves and their families.
Can I, or my future child, conceived through egg donation IVF contact the egg donor in the future?
In Russia egg donations are anonymous, this means that although we can offer our patients extended egg donor profiles and photographs of egg donors, the patients, or their future children, will not be able to make direct contact with their egg donors now, or in the future, after their egg donations. The egg donor will also never receive information about the recipient of their eggs, or the children created from them through egg donation IVF.
How much medication do I have to take to get my body ready for egg donation IVF?
In egg donation IVF treatment the amount of medication needed for donor egg recipient is very little, through the use of hormonal support, in the form of patches, tablets and pessaries, we can ensure the very best preparation of your body and guarantee that you are optimally ready for your chosen embryo transfer date. Would you like to read more about medication for donor egg recipient?
Would you like to discuss your medical situation and potential medication with us?
May I use both sperm and egg donation IVF?
Yes! At O.L.G.A. Fertility Clinic we are very happy to help patients that require both sperm and egg donation IVF to create their much wanted family. Alongside our egg donor database we can also offer an excellent choice of sperm donors. If however you should prefer to choose your own sperm donor from one of the main European Sperm Banks, or already have sperm stored elsewhere, we will be happy to help you with shipment to our clinic ready for your egg donation IVF with donor sperm.
May I have a brother, or sister from the same egg donor?
In egg donation the aim is always to create many embryos from the donor eggs collected in your chosen egg donor. After the initial embryo transfer all remaining, suitable embryos, are frozen for use in the future should you require more embryo transfers, or further siblings. By freezing all remaining embryos means that when used for future siblings they will be directly related to each other. Please read more about embryo cryopreservation.
If you have got your first child and there are no frozen embryos left after your egg donation IVF, there is still a chance that your egg donor will be ready to come back for one more donation for you. Our egg donors are very loyal to the clinic and all have a very strong feeling about maternity and family. Please read personal motivation letters of our egg donors
Will our mother-child bond be normal after my egg donation IVF?
This is always a common concern, or worry for our egg donation recipients! This is why in all of our egg donation programmes we offer up to 3 free session with our excellent and experienced family therapists. During these sessions patients can explore and eliminate their own fears, concerns and worries and with the therapist's support enable them to continue with treatment and look forward to becoming a parent through egg donation IVF.
Read more about maternity after egg donation
Do I have to tell the child about having used egg donation IVF?
The decision to tell your child about your journey to their birth is entirely up to you, every patient will feel differently about whether they should tell their child that egg donation IVF was used to create their much-wanted family and as your child grows they will also impact upon that decision. There is no right, or wrong answer to the question of to 'tell, or not to tell' your child, but with the therapist's support and guidance you will be able to find the right choice for you and your family. Therapists will also give you the tools for when the time to tell is right in the future, should you decided to tell your child about their creation through egg donation IVF.
Wondering how to tell the child and when?