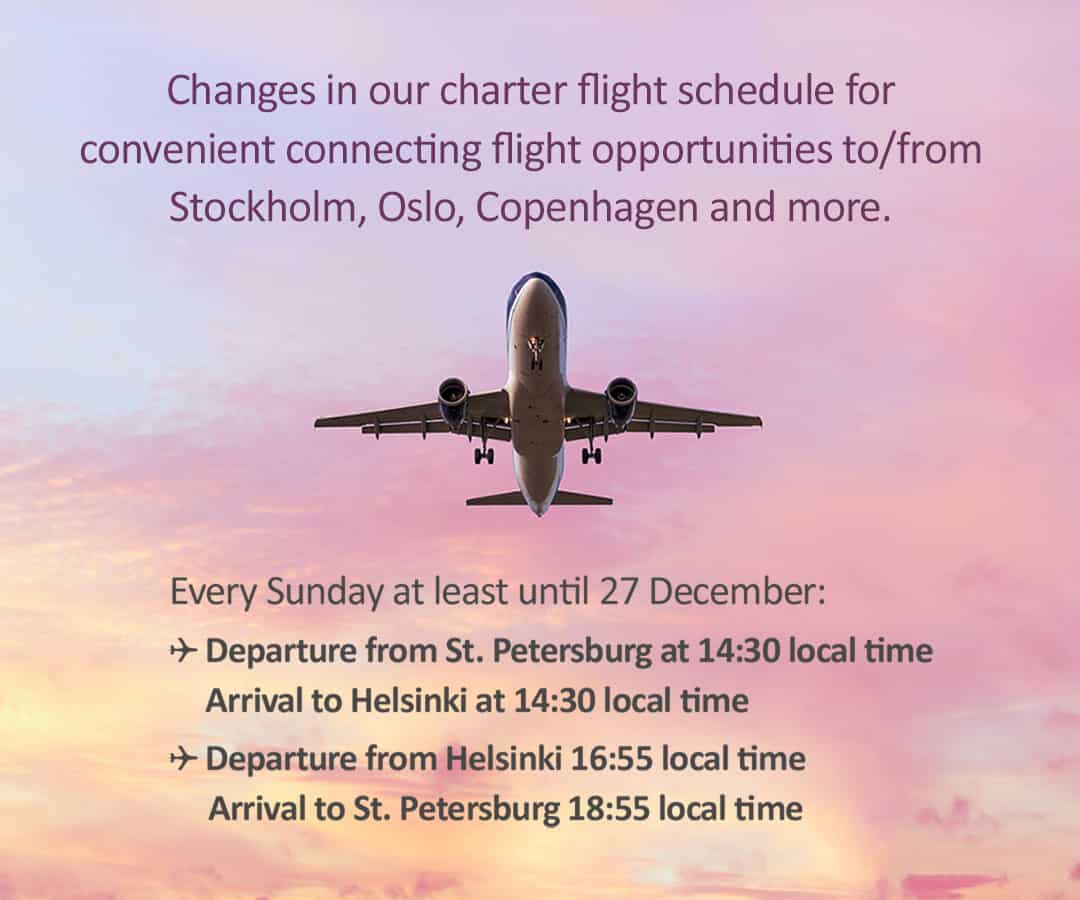 Dear Friends
8 November our first flights to Helsinki and back have successfully transported our patients traveling back home or arriving to St. Petersburg.
Patients ask me why we decided to do charter flights from Helsinki, not from Stockholm this time. The answer is very simple: if there is any flight cancellation, we can always send a bus to Helsinki to bring you there or to meet you.
For the following flights we have arranged with airports in St. Petersburg and Helsinki that departure times for our plane are changed so that our patients can use convenient connecting flight opportunities to/from Stockholm, Oslo, Copenhagen, Berlin, Frankfurt and other cities.
Every Sunday at least until 27 December:
Departure from St. Petersburg at 14:30 local time – Arrival to Helsinki at 14:30 local time
Departure from Helsinki 16:55 local time – arrival to St. Petersburg 18:55 local time

When traveling from St. Petersburg back home, there are convenient connecting flights from Helsinki:
Helsinki→Stockholm
16:55-17:15
SAS
16:25-16:45
Finnair
20:10-20:30
Finnair
Helsinki→Oslo
16:05-17:25
Finnair
Helsinki→Oslo
via Stockholm
16:55-19:40
Finnair
Helsinki→Copenhagen
via Stockholm
16:55-22:05
SAS
Helsinki→Copenhagen
via Oslo
16:05-21:25
Finnair+SAS
Helsinki→Copenhagen
via Amsterdam
16:40-22:30
Finnair+KLM
Helsinki→Berlin
17:25-18:25
Finnair
Helsinki→Paris
via Stockholm
16:25-21:50
Finnair+Air France
When traveling to St. Petersburg, there are convenient connecting flights to Helsinki:
Stockholm→Helsinki
13:00-15:15
Finnair
Copenhagen→Helsinki
11:45-15:05
Finnair
Oslo→Helsinki
via Riga

9:00-15:05
Air Baltic

Frankfurt→Helsinki
10:45-14:10
Lufthansa
11:40-15:10
Finnair
Paris→Helsinki
10:50-14:50
Finnair

We believe that convenient travel opportunities are important for your comfortable process and successful result.
Please contact your assigned coordinator or assigned administrator if you wish to reserve your seat in one of our flights.

Warm regards,
Your O.L.G.A. Fertility Clinic Team