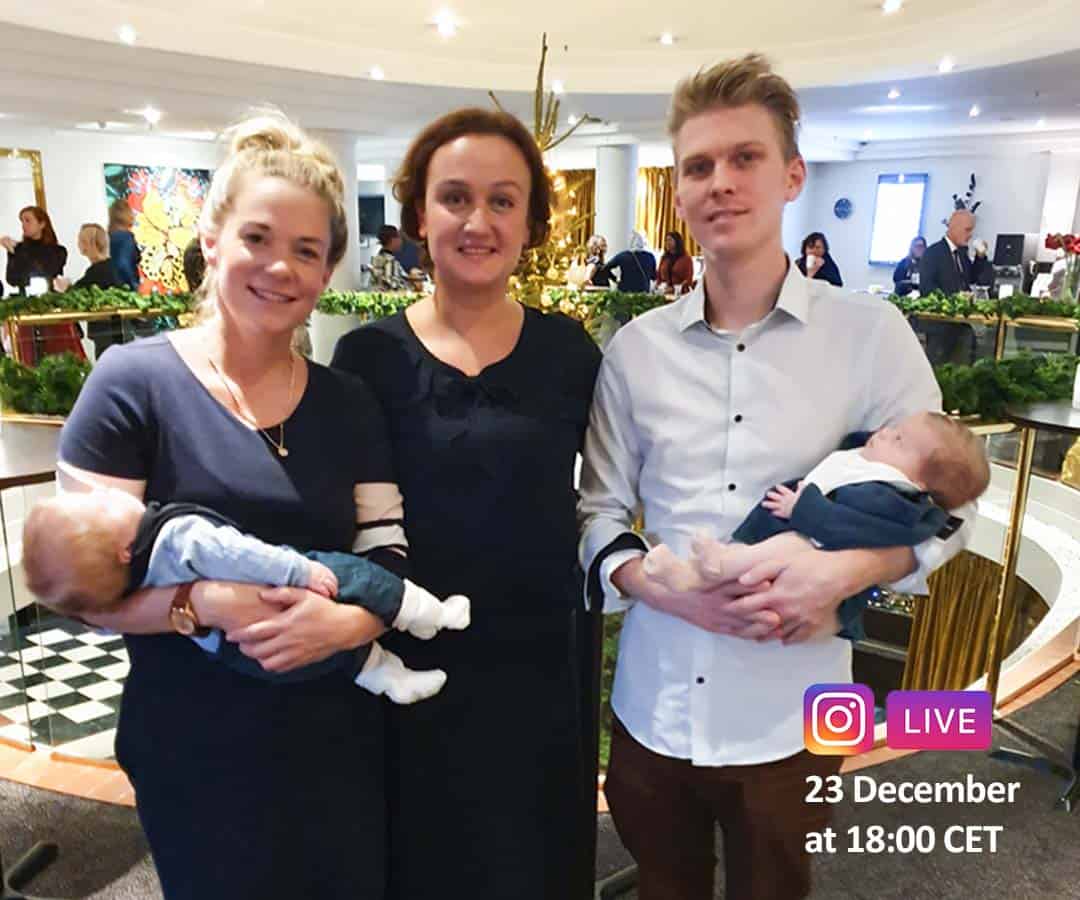 Dear Friends,
This photo was taken in December 2019, in one of our seminars in Gothenburg. Susanne, 39 and Nils, 33 @susanneahlund came to share the story of their success. They became parents to their sweet twins Julie and Vincent on their first embryo transfer in OLGA Clinic, using their own eggs and own sperm, after attempts in Sweden did not work and the continuation looked hopeless.
A year and 3 months earlier, 25 August 2018, Susanne and Nils joined one of our previous seminars in Gothenburg, frustrated and losing hope, trying to find out whether egg donation was their only option. I consulted them and concluded that I know how to achieve a successful pregnancy still using their own eggs and own sperm. To give the couple reassurance, hope and believe I offered to share risk: either a baby will be born within 3 IVF package with their own egg and sperm, we give them 80% of the cost of the package back.
Susanne and Nils got 200% success — twins! Julie and Vincent were born July 17, 2019 — less than a year after our first consultation!
As I always say, losing hope – is the main enemy of successful fertility treatment. Every negative pregnancy test hurts so much, that soon couples want to put an end to this torture and pain and conclude: "It does not work for us. At least we have tried".
But before saying so, please just look around and see:
"Can someone look at our situation without feeling as much pain as we do, when thinking of it and explain to us our true chances for becoming parents using our own eggs and own sperm? Alternatives?"
This is what we do. We give you hope based on facts. We give you a clear prognosis and successful strategy. And together we create reality in which facts, knowledge and hope turn into successful live birth.
Send us your journals, send us your questions, we are here for you to show you new angles and efficient ways of helping you become parents.
Please join Susanne and Olga on InstaLive 23 December at 18:00 CET and discuss how to keep hope up, decide not to give up and become the winner – taking your baby home with 100% guarantee! Please fill in the short form below to get email reminders about this InstaLive.
Susanne and Olga will also continue this topic in our webinar 28 December at 18:00 CET.
Explaining what Our Money-Back or Shared Risk packages include, how and whom they can help.
We are very sure of our knowledge and skills. Our experience helps us to see opportunities where others may see only problems. This is why, in 2021, we are moving to 100% shared risk and will give 100% of costs back if no live birth is achieved within the package.
Read more about or offers here: olgafertilityclinic.com/en/prices/
Read about Susanne and Nils story here: olgafertilityclinic.com/en/success-stories/susanne-nils-story-ivf/
Kind regards,
Dr. Olga