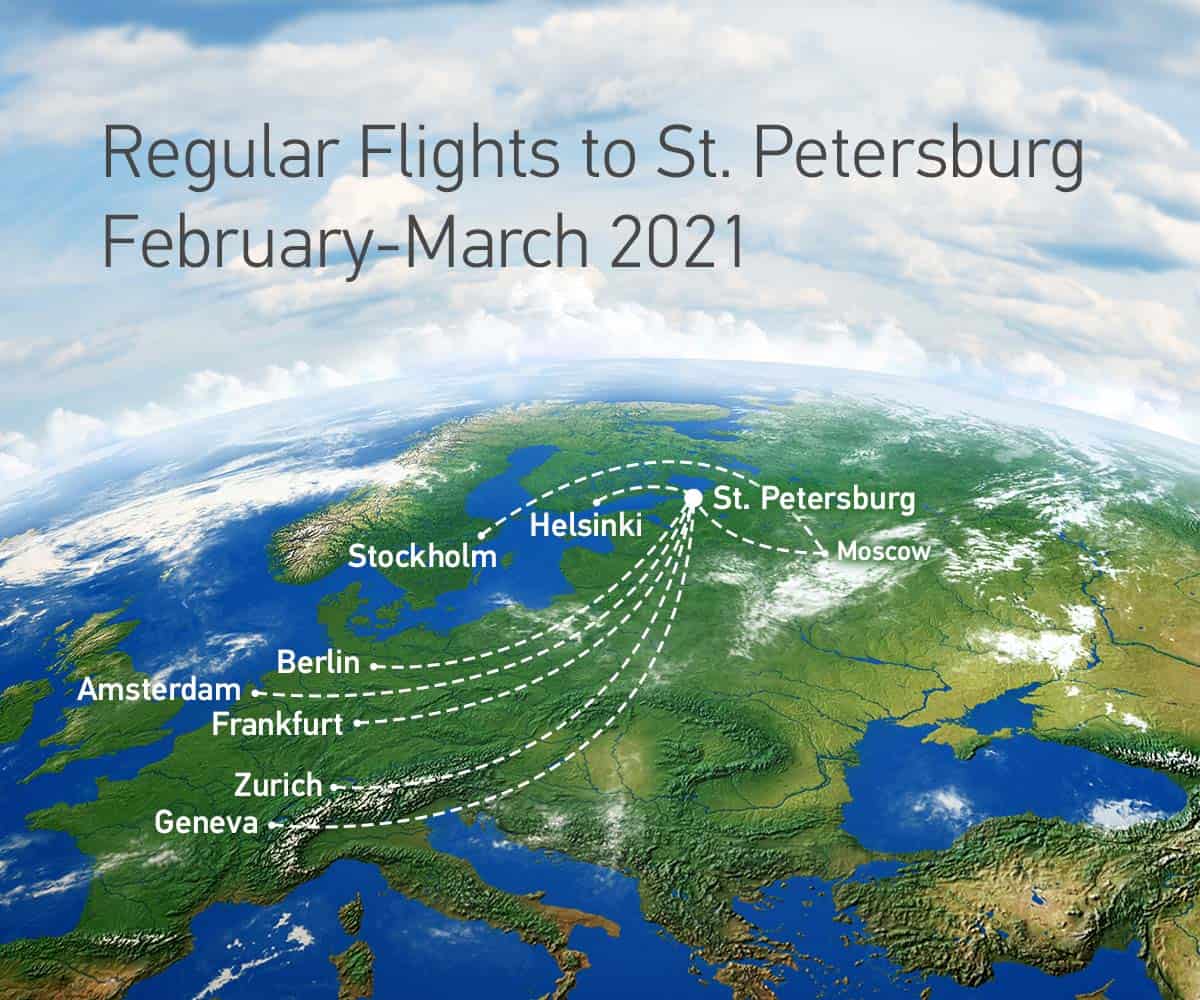 Dear Friends,
We keep on updating you on current travel routes to make your journey to us smooth, fast and comfortable.
Compared to December 2020 and even January 2021, the situation has improved a lot with much more international flights operating daily and weekly.
These regular direct flights to St. Petersburg from Europe you can take already now:
St. Petersburg — Helsinki
Friday 15:00-15:05
Sunday 19:45-19:50
Helsinki — St. Petersburg
Friday 12:05-14:15
Sunday 16:50-19:00
St. Petersburg — Amsterdam
Friday 12:50-17:35
Amsterdam — St. Petersburg
Friday 18:30-19:35
St. Petersburg — Berlin
Sunday 09:30-09:55
Berlin — St. Petersburg
Sunday 10:45-14:55
St. Petersburg — Zurich
Friday 13:35-14:50
Zurich — St. Petersburg
Friday 07:25-12:30
St. Petersburg — Geneva
Saturday 14:20-15:50
Geneva — St. Petersburg
Saturday 16:40-21:55
St. Petersburg — Frankfurt
Thursday 19:00-20:05
Saturday 19:00-20:05
Frankfurt — St. Petersburg
Thursday 13:15-17:55
Saturday 13:15-17:55
St. Petersburg — Istanbul
Daily 16:05-19:30
Daily 02:45-06:10
Wed, Fri, Sun 10:15-14:05
Istanbul — St. Petersburg
Daily 11:50-15:10
Daily 22:25-01:40
Wed, Fri, Sun 15:05-18:45
There are also flights through Moscow
Moscow — Stockholm
Saturday 15:10-15:40
Stockhom — Moscow
Saturday 16:40-20:55
Moscow — Amsterdam
Aeroflot
Saturday 14:25-16:05
Mon, Thu 09:10-11:00
KLM
Sat, Sun, Mon, Tue, Thu 17:55-19:35
Amsterdam — Moscow
Aeroflot
Saturday 17:25-22:55
Mon, Thu 12:30-18:10
KLM
Sat, Sun, Mon, Tue, Thu 11:35-17:00
Moreover, Moscow airport has just started accommodating flights from/to: Rome, Milan, Barcelona, Athens, Paris, Hamburg, Dusseldorf, Vienna, Geneva, Belgrade, Budapest, Brussels, Ljubljana, Prague, London, Munich, New-York, Los-Angeles, Bangkok, Seoul, Tokyo, Deli, Gyor (all these flights are mainly operated by Aeroflot). In case you are interested, ask us for more details.
It takes just one hour from Moscow to St. Petersburg, with many flights during the day.

And as always, our English-speaking driver meets you at the airport upon your arrival and takes you back to the airport when you go back home.
We looking forward to helping you find the best route to and from St. Petersburg. Feel free to contact us if you have any questions or need help with choosing optimal flights.