GOOD MORNING NORWAY (TV 2): Liv Marie Skaare Baden has fought for many years to become a mother and now openly tells about her difficult journey on the Norwegian morning show.

TV2, Norway | 18 December 2022 | Text by Christina Eriksen, Photo by Agnes Mogstad/Good morning Norway and private
Link to the original version in Norwegian: www.tv2.no/nyheter/innenriks/etter-flere-brutale-nedturer-ble-drommen-en-virkelighet-for-liv-45/15337074/

What do you do if you are single, over 40 years old and dream of becoming a mother? Liv Marie Skaare Baden (45) had always envisioned her family life with a husband and children.
- There is something fundamental, I believe, in the wish and longing for a family. And I have realized that many people have it the same way. It's such a longing, it just feels so natural. I'm going to be a mom, of course I'm going to be a mom. And it's been that way since I was little. It seems so evident that it should happen.
But then it turns out to be not so evident for everyone. We learn about that, among other things, in the NRK podcast, "Livs last chance", where Liv Marie opens up about her long and difficult journey towards becoming a mother.
- You live and hope
She was over 40 years old and had always imagined herself having children, becoming a mother. She therefore had to make a choice.
- I was actually a bit challenged by a friend, who told me: "Do you really want that? Then you have to act, because time is running out", she says and continues:
- I think you live and hope that things will work out for you, that you will find a man and have a child with him. Because that's what you want. I basically don't want to be alone. I want a family, I want it to be two of us. But in the end, I just had to accept it and go for it by myself. Then that's how it had to be.
The heart stopped beating
Liv Marie becomes pregnant on her first try in Denmark. She is going through a pregnancy. Everything is normal and she is preparing to give birth — with her friend Jorunn in the delivery room. And on the biggest day of her life, she finds out that the little boy's heart has stopped beating. His heart did not start beating again. And she has to give birth to the little boy who is dead. Little Sebastian.
- I was just waiting for a message and for them to say: "Now we'll just do this and that, and then the heart will start beating again". It took a while before I realized..., - she says with a crack in her voice and lets it hang in the air for a while before continuing:
- It is so unexpected and so absurd. I was like: "No, but I am giving birth! He is going to come out now." What are you talking about? This can't happen. Now the heart will start beating again and then I will give birth." For me, the understanding of that was so enormously long. I felt that it took so long to finally realize what it was: "You really mean this, that he is dead".
- This should not have happened, all that I have been dreaming about, expecting and longing for and hoping for so long. A pregnancy is a long preparation time.
Her friend Jorunn Hauge was in the delivery room that day. And she, like Liv Marie, had also thought that this was going to work out.
- Of course, it was a shock. It went so fast. We met there at the hospital and she was just going in for an initial check-up, and then she gets the message. I realized the meaning of the message a little sooner than she did. And I thought, "now I just have to be here for her, now I have to focus, says Jorunn and Liv Marie continues to tell what she remembers from that very moment:
- I felt that I argued with the doctor, that's how I remember it. And then suddenly only you were there when it really dawned on me. Then it was like you just threw yourself at me, says Liv Marie about her good friend.
She continues her journey
She continued to try. She wanted Sebastian to have a brother or sister. Sebastian will stay in her heart forever.
She had two attempts left, which she decided to complete. The first attempt was not successful and the second attempt resulted in a miscarriage.
- How close were you to giving up then, Liv Marie?
- Then I had to make up status with myself, as I had used up all the three attempts. It was a rollercoaster, there were new thoughts, new doubts, it was "should or shouldn't". I had to start all over again and just: "What do I do now? What are my options? And how far am I willing to go?"
She says that there is also the financial aspect of it, and there is the time aspect.
- When you reach a certain age, time is crucial. It's actually the worst, because you really feel that time is working against you. It's so brutal, every day counts. For women the quality of her eggs decreases proportionally with her age. That is why women talk about biological age and that the clock is ticking.
Positive pregnancy test
Finally, she makes up her mind. She finds a place in St. Petersburg, Russia. A clinic that can help her and that actually informs her straight away that there is no more possibility to use her own eggs. She ends up with egg donation and sperm donation and after some time gets a fertilized egg inserted.
For the fourth time, she takes a pregnancy test, at her friend Jorunn's house - who has  been by her side all the way. The test is positive. But the cheering is not loud.
- I think I can say on behalf of everyone who has lost a child. It is an incredibly demanding pregnancy, it is almost pure hell. Because you're so scared. The nine months are extremely long. "Is there blood on the paper? I have no signs yet," and I had countless nightmares and panic attacks about bleeding on the bus and at work.
- It is absolutely wonderful
But it went okay. Frida Marie was born seven months ago. And Jorunn was at the birth this time too. And they remember well the moment when Frida Marie came into the world.
- I lifted her up and down in my arms. It was so wonderful. It was magical! But I didn't dare to believe that it would go well until the moment she was born, says Liv Marie.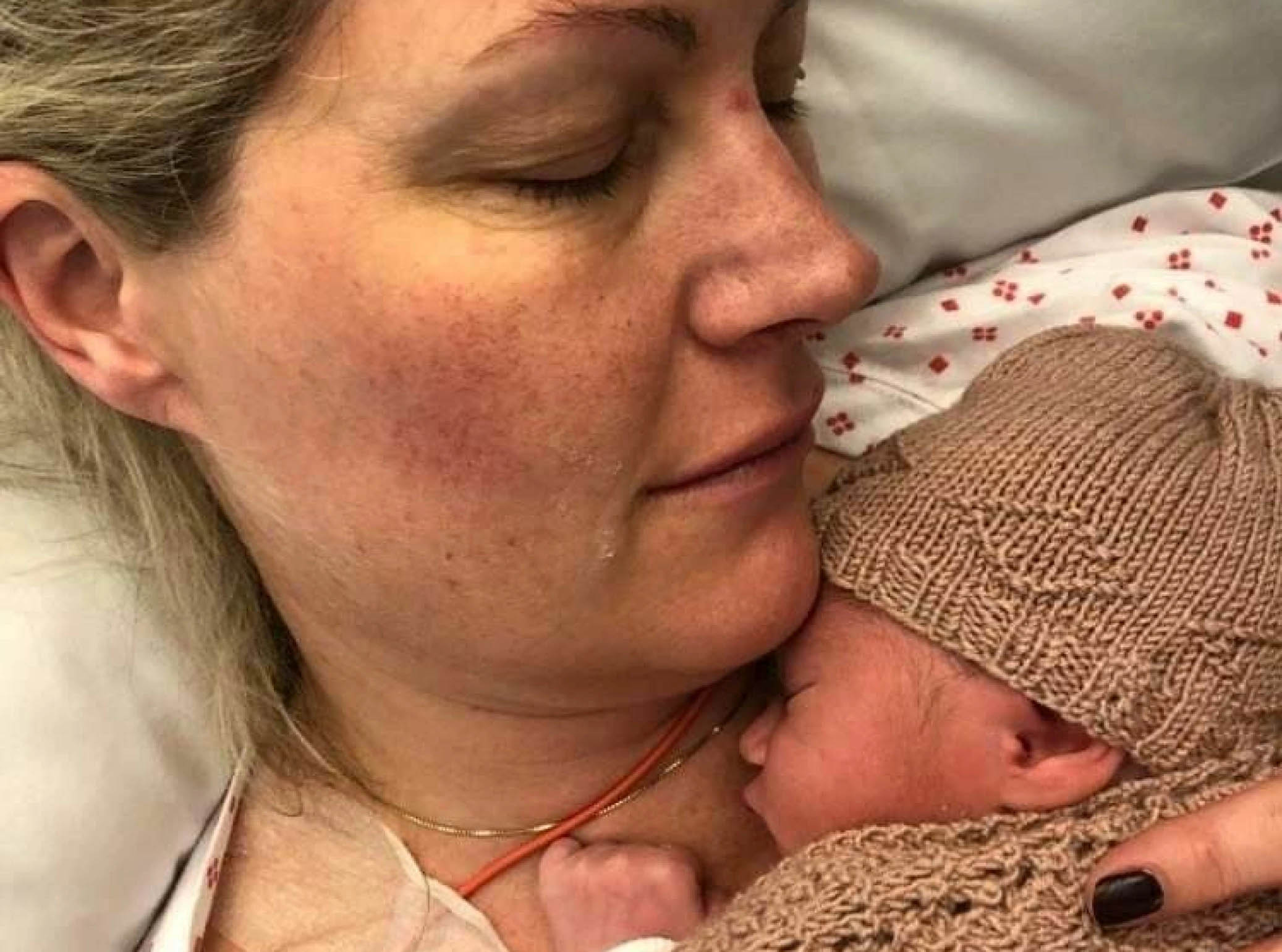 Jorunn stood by and witnessed the touching moment.
- The circle has been closed. She has been through so much to give Frida life. It was just indescribably wonderful. It is difficult to find words to tell about it. This is how it had to be.
- How would you describe her as a mother?
- She is absolutely wonderful, and I knew that. I see how she is with my children. She is amazing.
Liv Marie has been struggling for many years. She looks forward to celebrating Christmas with her daughter for the first time.
- She is absolutely wonderful. She is extremely active. She is very cheerful and she spreads so much joy by just being herself, not only to me — but also to everyone around.