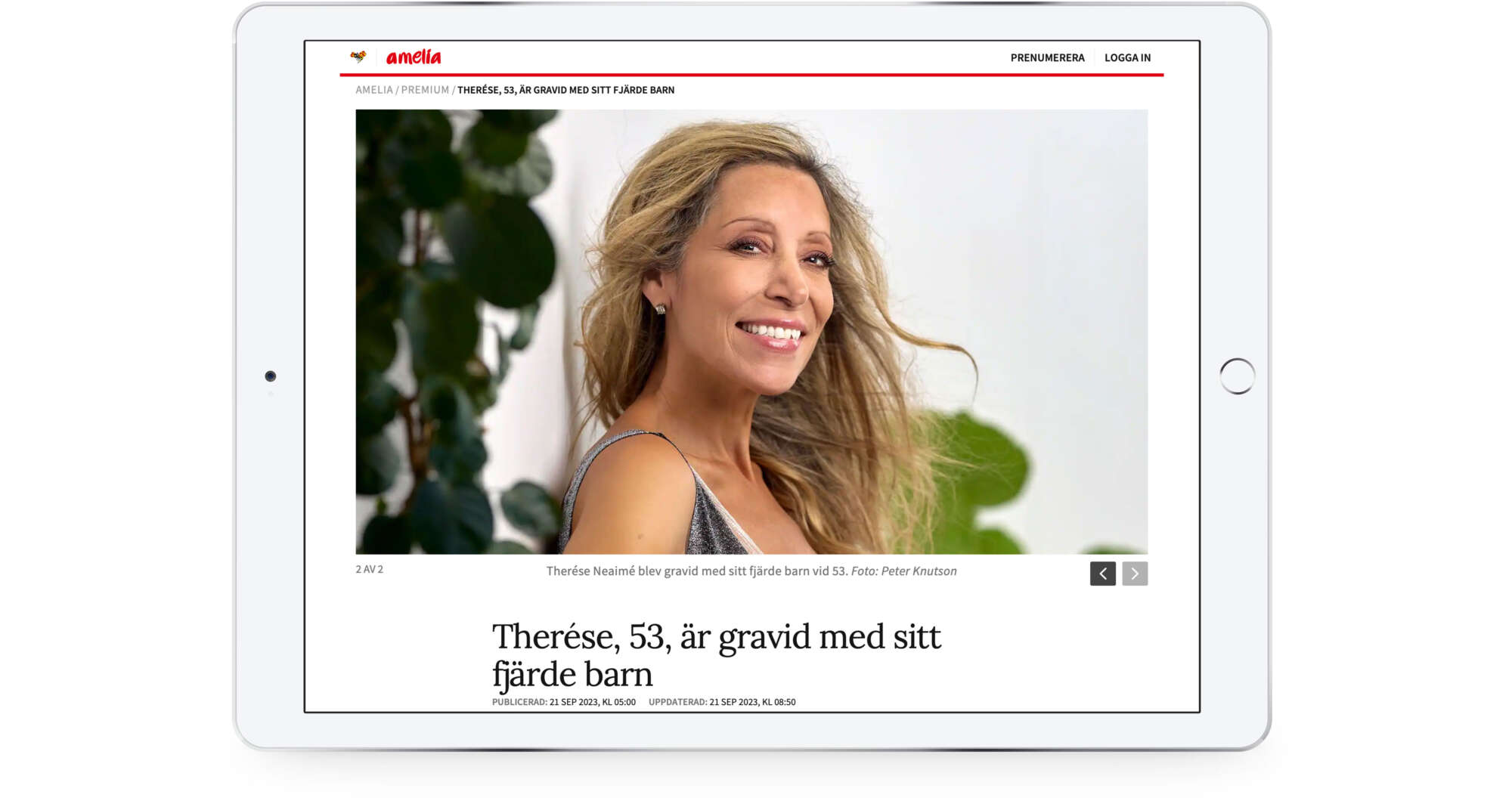 Published: 21 Sep 2023
Article by Pamela Anderson
Translation from Swedish by Anna Svarinskaya
You can read this article in original on expressen.se:
www.expressen.se/amelia/premium/therese-53-ar-gravid-med-sitt-fjarde-barn/

Therése Neaimé, 53, received a call from the fertility clinic where she became pregnant with her third child. She needed to decide whether she wanted to have another child. An embryo that would become a full sibling to one of her sons was waiting in the freezer.
The decision was not easy.
- I debated with myself for a long time. What will the other children think, am I too old to become a mother again? — she tells.
We meet at Thérese Neaimé's home in Vasastan in Stockholm. Here she lives with her three children, Lucas, 13, Nikki, 11, and Lennox, 5.
Thérese has everything she has ever wanted in life. A large family, a career as a singer and a home with enough space for everyone.
But suddenly there was an unexpected call. Her son Lennox, who was born via an embryo donation when Thérese was 47, has a possible future full sibling in the freezer at the Russian fertility clinic. The embryo had been stored there for five years and Therese now needed to decide whether she wanted to use it. If not, it would have been disposed of.
- I immediately understood that I wouldn't say no.
I mean, how could I deny Lennox a full sibling? But it honestly wasn't an easy decision after all. I debated with myself for a long time. What will the other children think, am I too old to become a mother again?
THERESE NEAIMÉ
Age: 53.
Family: children: Lucas, 13, Nikki, 11, Lennox, 5 and a baby in the belly.
Lives: Vasastan in Stockholm.
Job: Singer, lecturer and actor.
Plans: In March 2024 she has a show planned in Las Vegas as a singer.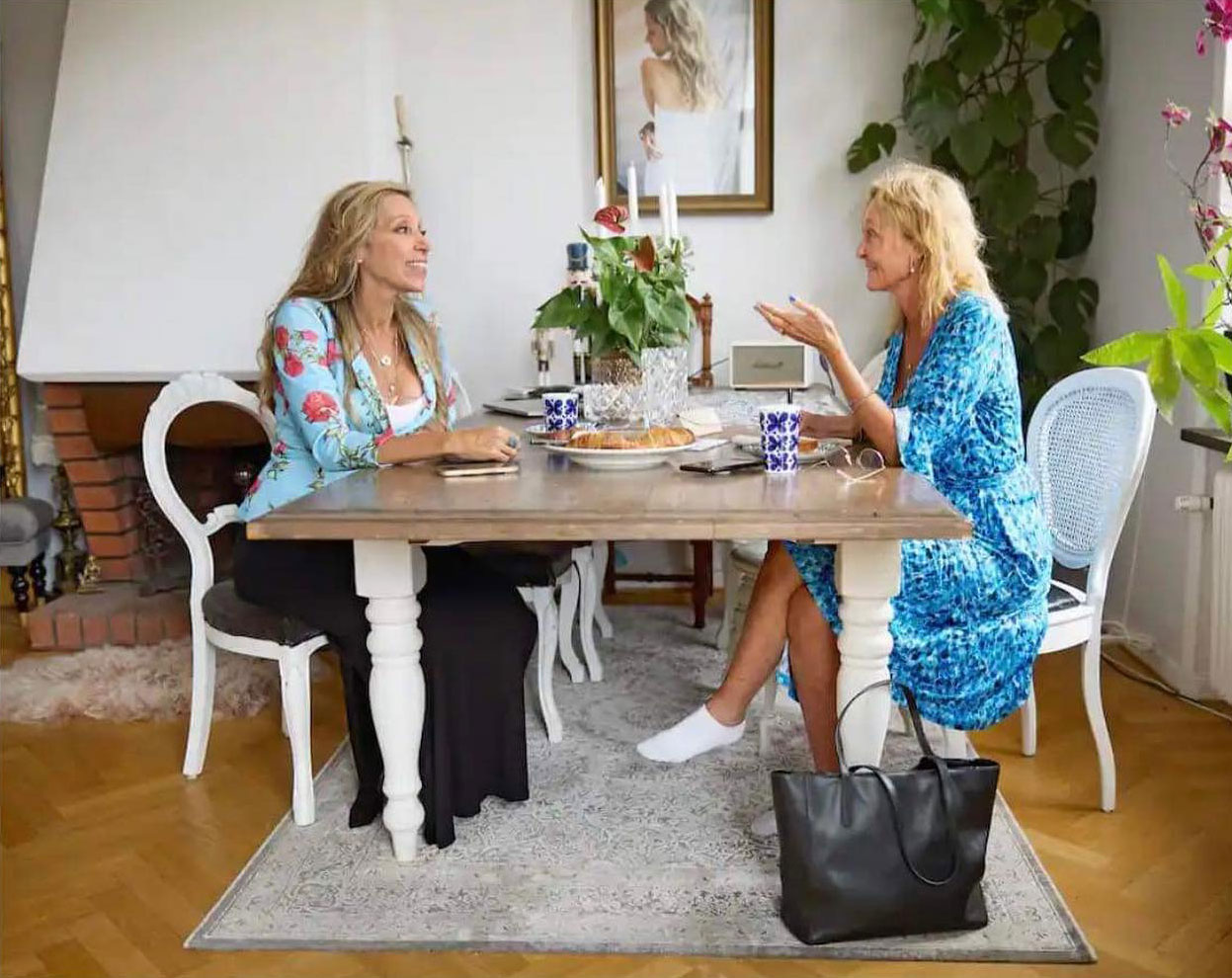 Before Thérese made her decision, there were many thoughts and considerations that needed to be taken into account. Could her body handle another pregnancy at the age of 53? What would her other children think, and what would her new everyday life look like?
⁃It took me nine months with many thoughts and several health check ups. I wanted my decision to be fully thought out. I'm responsible for my three children and I can't risk anything, and I want to have time for them, too.
⁃At the same time I know that there are a lot of prejudices because of my age, so I didn't talk to anyone other than my children, I didn't want to be affected by other people's opinions and thinking. I wanted to make this decision myself.
WOMEN GIVE BIRTH LATER
In 2022 the average age for Swedish first-time mothers was 30.27 and according to the Norwegian statistics the 40 plus group is increasing steadily. In 1978, 1,079 women were over 40 when they gave birth to their first child, in 2022 the figure was 6,197.
Thérese has always been told that she has her own way. Even as a child, she knew what she wanted to do in life, she was going to be a singer. A dream she has fulfilled. The career is also a kind of revenge for the bullying she had to endure in the middle school, when classmates wrote "We hate you, Tessan" on the walls and she was harassed because she stood out from the crowd because of her appearance.
- Catastrophic, she sums up.
But perhaps it was then that her will to go her own way and to be successful was shaped.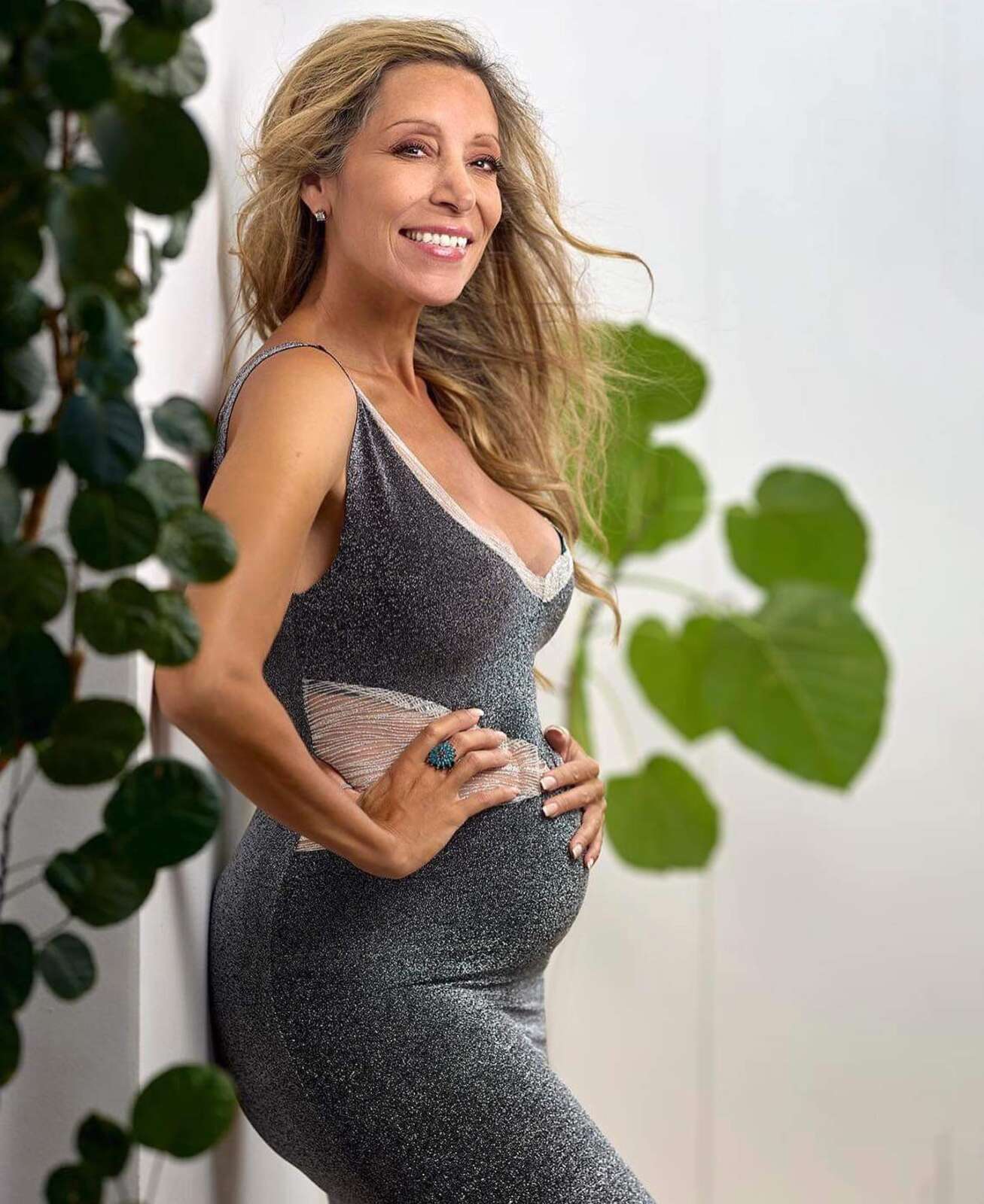 How does the career work when you soon have a baby to take care of?
- I have always been taking my children with me in everything I have done, and the new little baby will also be allowed to come along. I am passionate about showing that it is possible to combine motherhood with a career in the spotlight. It also makes me a better mother because I do what I love.
What I get is to stand on stage for a while and then I'm one hundred percent a mother again.
ABOUT EMBRYO DONATION
Embryo donation means that an already fertilized egg — which was left after an IVF treatment, or which the donor was paid to donate to a clinic — is transferred to the uterus. The recipient can either be a couple who both lack functioning egg and sperm cells, or a single woman who does not have her own egg cells.
Source: National Board of Health and Welfare
When the children gave their approval that there would be another member to the family, and all the medical check ups were ready, there were still several aspects to take into account. Thérese is fully aware that there are many skeptics that a single woman chooses to give birth at the age of 53. When the child she is expecting is ten, she will have turned 63. And research shows that the risks of complications in a pregnancy increase with the woman's age.
- I have been lying awake at night thinking.
At the same time, I think that we all have our own journey in life, and I would never think of questioning or criticizing another person's journey. In addition, I am confident in my journey because I know why I am doing it.
Thérese says that she feels young, because she still lives in a toddler world where the youngest child is only five.
- I feel in the middle of life, but I certainly wish I was 40 instead of saying that I would have more time for myself.