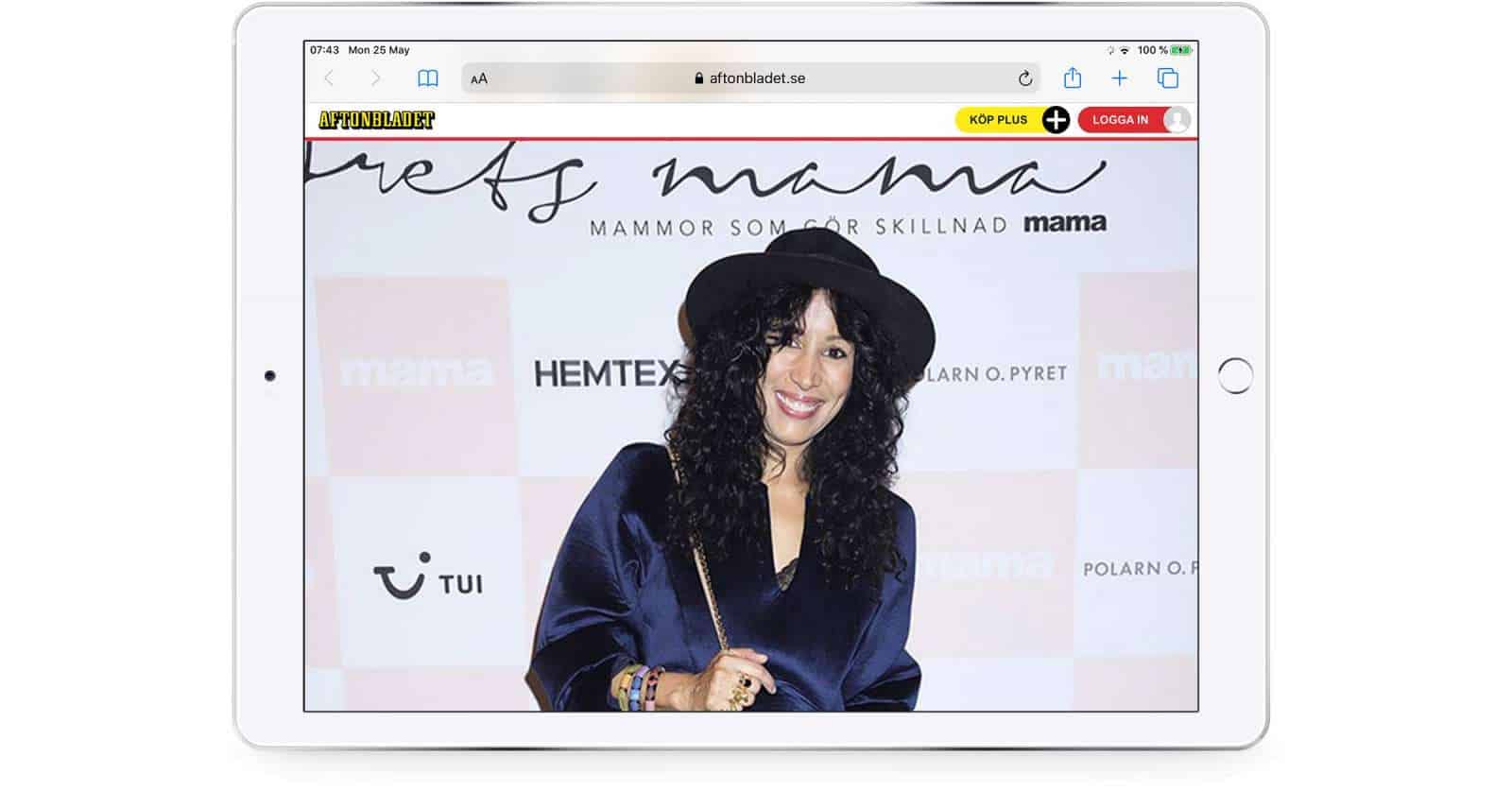 The original interview you can find here (text & video in Swedish): www.aftonbladet.se/a/1k4yre

Translation to English
Titiyo Jah had her second child at the age of 50.
On Monday evening she was named "Comeback Mum of the Year" at the Mama Gala.
"In fact, I'm quite proud to have broken some kind of norm because I'm a very old mum," says the artist to Nöjesbladet.
Titiyo Jah, 51, had her second child last year. She already had one daughter, Femi, who is 26 years old.
Her decision to try to conceive again has inspired other mothers and women who are trying or want to become pregnant.
"In fact, I'm quite proud of breaking some kind of norm — that I've pushed the boundaries a bit — because I'm a very, very old mum. There are many girls and women who have said, "I'm inspired and I'm trying a little bit more." So, I've broke the norm a little bit, I'm proud of that.
"Mums that make a difference" were once again the theme when the lifestyle magazine Mama, in collaboration with Unicef, presented their traditionally acclaimed "Mum of the Year". The aim is to highlight mothers who have made an impression during the year. This year, six "mamas" were named in different categories. Titiyo Jah became this year's Comeback Mum.
Important to celebrate women
The jury's motivation read:
"She is one of Sweden's biggest pop stars throughout the ages and is now back on stage - at the same time she has become a mother again at 50. The most anticipated Comeback Mum of the year is Titiyo," says a press release.
Titiyo Jah herself praises the purpose of a Mother-Gala.
"It's great fun that it's only girls. To pay tribute to women today is one hundred percent "yes". It's not often you go to a gala where there are about seventy women. It's important and fun, she says.
But it was not obvious to have a child at the age of 50.
- No, it was absolutely not. I was single for seven years and just did what I felt like. Suddenly, things changed. I think when you decide to have children when you are 49, you set up such short time goals. To then think about sitting there with a little one, that thought is so far away. But now I'm there. Now she is one years old. And I can admit that I'm completely exhausted, says the artist with a laugh.
Received help
She speaks frankly about how hard the toddler years are — and how she had managed to forget all about it.
- There are many people who have asked: "Do you remember how it was the first time around?" And I have said "Well, a little bit." But I had definitely forgotten how hard it actually is. It's great fun, she's amazing, but it is not always easy. Saying that, of course, it is obviously different depending on what kind of child you have, but she keeps us awake.
At the same time, it was not a simple journey to get pregnant, which was complicated by her age. Titiyo Jah and her partner Viktor Flumé, 36, received help through IVF. And last November, their daughter Bibi was born.
"We got help from a clinic called AVA-Peter Clinic. I had a check-up and when we learnt that it looked good, we had a little extra help and that help worked. It did not happen just like that at home.
At the Mama Gala, Ida Östensson was also celebrated, she became "The Most Important Mum of the Year" for her work with Sweden's new consent. Mia Skäringer received the award "This Year's Fuck Off-Mum" and Johanna Bradford received the "Inspirational Mum of the Year" award for sharing openly her fight against breast cancer.
But it will not be a particularly heavy celebration for Titiyo Jah, whom in the spring will do yet another tour.
"I'll go home and sleep," she says with a laugh.
"Hopefully her dad is awake, so maybe we'll be awake a little bit later tonight.