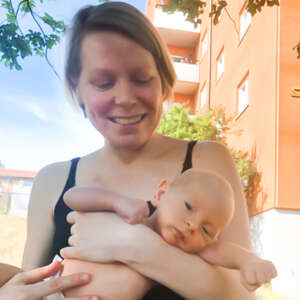 Anna-Maria Loimi, Instagram @annaloimi:
My baby boy Nicolas was born on May 11, 2020, thanks to Olga and her team and an egg and sperm donor. I am beyond grateful because I never thought my dream of becoming a mother would be realised. Especially as I turned 45 years old 6 days after Nicolas' birth and I had done fertility treatments for 2 years in so late in life.

I started out with several IVFs in Denmark but was unsuccessful and I realised that I wasn't giving myself the best opportunities nor professional conditions on my journey of becoming a parent. I had to change something. Luckily I found the Olga Clinic. I was hesitant at first but after attending a seminar I was convinced that Olga clinic was the absolute best choice for me. I invested in a package of two attempts with my own eggs and three embryoadoptions with money back guarantee. Already in the start Olga recommended me to go for embryo adoption but I still wanted to try with my own eggs, as I was afraid it wouldn't feel like my baby. After two egg retrievals with better outcome than in Denmark, I.e more eggs retrieved, but after pgs testing we were not able to proceed with own eggs. After talking to Olga, other clients choosing embryo adoption, clinic psychologist and with egg donor team I felt completely confident and comfortable going forward with embryo adoption. I was also so very tired from all the IVF hormonal treatments that I almost couldn't do it anymore and lost hope.

Now afterwards I cannot understand my hesitancy of embryo adoption. I became pregnant on my first embryo transfer with egg and sperm donor. I wish I would have chosen this shortcut earlier and spared myself from many hormonal treatments as I have felt from the start that this is my baby whom I carried in my womb. I couldn't believe when the blood test showed that I was definitely pregnant. After Nicolas was born the feeling was even stronger  - we belong together - this lovely baby boy and me. There is no question about this and I am so happy I processed my feelings about egg donation.

I am so ever grateful for Olga and her team and the donors that I could reach my dream of becoming a mother after all that has happened in my life, the IVF attempts in Denmark and my age.

The professionalism, support and warmth of all personnel in Olga's team that I have been in contact with has been wonderful. I have felt supported and embraced every step of the way, with all the ups and downs involved in a process like this one and I haven't felt lonely even though I was doing it alone. Furthermore, I have met wonderful people at the clinic also on the same journey as me resulting in babies, which means that Nicolas will have many Olga baby friends in many countries.

As I am writing these words Nicolas is sleeping next to me, this wonderful and charming baby boy. Words cannot express my feelings or gratitude."