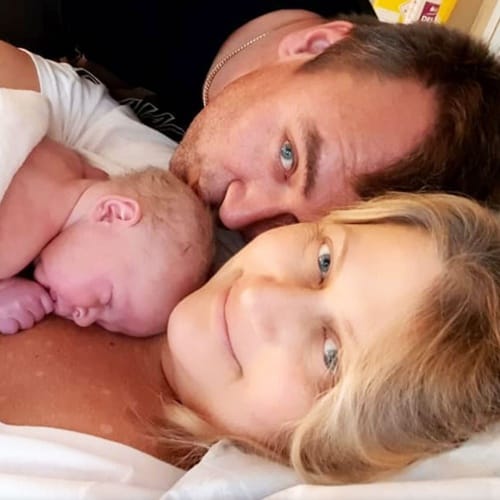 Is miracle really happening? Our answer is a loud and clear YES! Today we are at home, 4 days after planned C-section with an absolutely fantastic and perfect boy - we succeeded in the fight against childlessness to become pregnant against all odds! We managed to complete the pregnancy and we have many around us to thank for the miracle we experienced on 5 Nov, 12:38.

After many years of struggle and insemination, hormone treatments and IVF all ended in that we never managed to get a plus on the stick here in Sweden or Denmark. The treatment was as for everyone, regardless of the complication. But we felt somewhere within us that there was help and that a miracle was waiting for us out there. We never gave up, we searched and we evaluated. We listened if we were listened to. We knew it was a miracle we were looking for and it was our last chance before we might choose to step over the threshold to a life of involuntary childless. But a cliché says that whoever is looking for him will find and we found!

We found a clinic in St. Petersburg named OLGA Fertility Clinic and Dr.Olga herself is a woman with tremendous experience and knowledge together with Dr. Elena and the famous embryologist Anna, who have many awards. They create miracles — the miracles of life. Their egg donation team leader Anna Macarova is an amazing person with their own experiences and is a fantastic support throughout the process. Our coordinator Alla, their psychologists and the whole team who are involved in your particular case and YOU are important is nothing to forget. We are go all of them eternally grateful. Everyone may not be mentioned by name but none of them are forgotten everyone has a special place in our hearts.

Without them, this journey wouldn't have been a memory of life. Without them, today we wouldn't sit here with this amazing and absolutely perfect miracle in our arms. Without them we would repeatedly asked ourselves what is wrong with us and why can't we get help? Without them we wouldn't have been whole.

We thank @dr.olga.zaytseff with her entire team for making us whole against all odds. THANKS we love you all!
Monika & Andre
Instagram: @karleksbarn_i_st.petersburg
Dr. Olga comment:
Dear Friends, many of you have followed the story of Monica and Andre on Instagram and in Press:
Article in Expressen.se
Article in Svenska Dagbladet
Their long and challenging journey has brought them to one of our seminars in Gothenburg in August 2018 and we had a personal consultation 26 August 2018.
5 November 2019 the sweetest boy ever was born on the very first egg donation attempt we did together. An amazing couple became an amazing family!
Thank you, dear Monica and Andre, for these words warming up our hearts, means a lot to us!