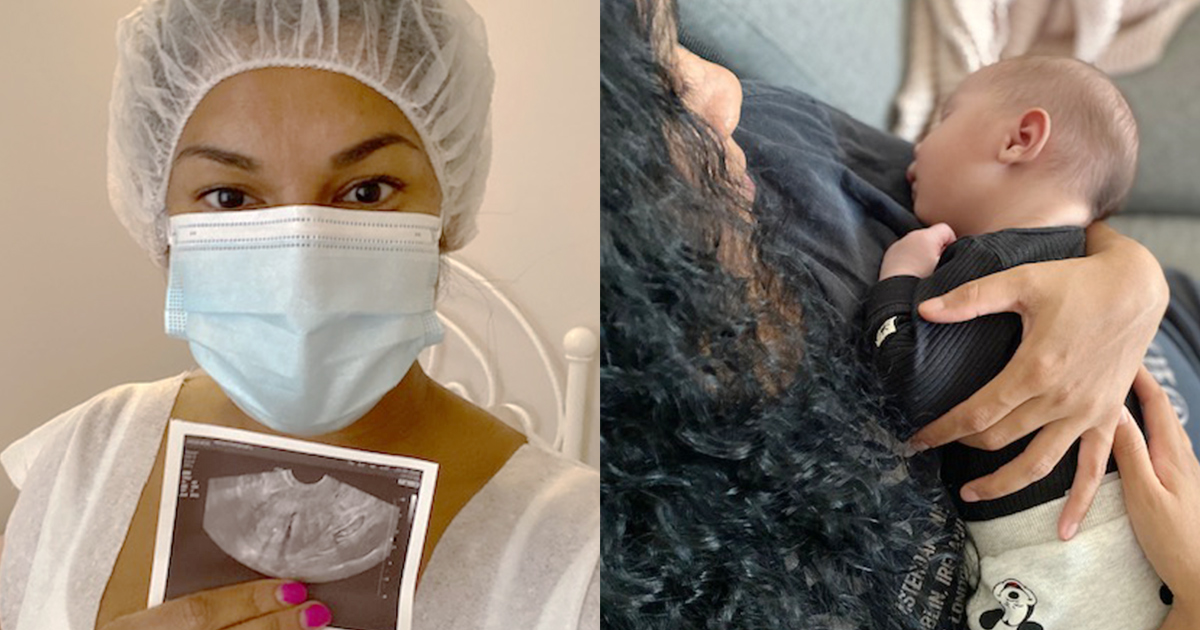 With the kind permission of our dear patients Sophia and Mattias, we share with you their story. Dear Sophia and Mattias, thank you so much for your persistence and strong will during your process, also for your warm and generous sharing of your story with those, who are still struggling to become parents. Also lots of gratitude to the OLGA Team for making impossible possible.
After 3 unsuccessful IVF attempts in a local clinic Sophia was told she had "poor egg quality" and "will not have genetic children". Within 3 IVF attempts in a local clinic she has got just one blastocyst and no pregnancy. Sophia and Mattias have got 6 blastocysts and a baby boy within 2 IVF attempts in OLGA Clinic. 
This story gives hope and motivation to walk the fertility journey up and until it works. And this is what we wish to you: the happy ending of your fertility journeys with healthy happy babies in your arms.

Sophia:
We started our journey to be parents already back in 2015. After a year of trying to conceive by ourselves, we reached out for help at the Public Health care.  We took all the standard tests, and the result came out great for both of us. We made three IVF attempts but nothing worked. After the last attempt they told us that my eggs had bad quality and that I probably never would be able to have genetic children. 

Winter / Spring 2019 we received a tip about the clinic from a friend and we went to a seminar held by Dr. Olga in Oslo. After that seminar we booked a consultation with Dr. Alena and here started our journey at O.L.G.A Fertility Clinic.  

For those of us that normal IVF doesn't work for, it was reassuring that the clinic did lots of tests, and everything they could for us to succeed. For us, the individually tailored treatment has been crucial for our successful result. It would take 6 trips to St. Petersburg before reaching our goal.

With the help of Dr. Alena and the entire team, they have managed to find the reason why it has been difficult for us to get pregnant. Among other things, it was discovered on a hysteroscopy that I have adenomyosis. Before the last embryo transfer that was done, I was treated for this disease.

I travelled to St. Petersburg in September 2020, in the middle of a pandemic - by bus from Helsinki with other patients and I am so grateful that the clinic had arranged this transportation, so that it was possible to go to the clinic to do our treatment. Ten days after the embryo transfer of our little blastocyst I took a pregnancy test which turned out to be positive!

On June 25, 2021, our son, Edvin, was born. We are in love with this little miracle and it's thanks to our team at O.L.G.A Fertility Clinic that made this possible.

We have never regretted our decision to seek help from O.L.G.A Fertility Clinic and even though the journey was longer than we first thought, we felt taken care of and safe throughout the process.

From the bottom of our hearts, we are so thankful for everything the O.L.G.A Team has done for us. Thank you for creating this miracle. Thank you for never giving up and having faith in us. You saved our hearts.

We have just started our sibling trials and looking forward to seeing you all at the clinic soon 🤗

Warm hugs from
Sophia & Mattias"


With the kind permission from Sophia & Mattias, Dr. Alena shares here some details of their treatment, which may be helpful to others:
Dr. Alena Egorova:
"I was Sophia's and Mattias' treating doctor in OLGA Clinic. When we met for the first time, Sophia was 31, having 3 egg retrievals and 2 embryo transfers behind.
In those 3 egg retrievals, 33 eggs were collected in total. The first and the second IVF cycles have produced one fresh embryo each, the third IVF cycle has produced no embryos. These two fresh embryos were transferred in two fresh cycles: one — on day 2 and one — on day 5. No pregnancy was achieved. There were no embryos available for freezing.
Sophia and Mattias came to us being very sad and frustrated, especially taking into consideration that more than one year of intense IVF process has not given any positive outcomes at the age of 30, when expectations from one's own egg IVF process are very high.
Sophia shared with me that the conclusion after her IVF journey at that stage was "The poor egg quality" and she almost gave up her hopes to succeed with her own eggs.
Looking through available data I saw that the chances to achieve live birth with own eggs are not exhausted for Sophia and Mattias. On the contrary, after having studied their history I have got a lot of confidence that if "cooked by the right recipe" Sophia's eggs will work.  Hence, I have offered Sophia and Mattias our 3xIVF package with their own eggs and live birth money back guarantee: either a baby within 3 IVF attempts or money back.
In the first IVF attempt in our clinic we have frozen 3 nice blastocysts.
The first embryo transfer, sadly, ended in a negative pregnancy test.
Taking into consideration that Sophia by that time already had gone through 3 embryo transfers and had not gotten pregnant we suggested hysteroscopy even though the uterus always looked good in the ultrasound examinations. The result of the hysteroscopy was the next important milestone leading to success, as during the hysteroscopy examination we discovered adenomyosis in the uterus.
It is known that adenomyosis is a condition that may reduce the chances for the embryos to implant and develop in the uterus.
After three months of suppressive treatment for adenomyosis, two remaining blastocysts were transferred, sadly with no result.
We performed one more IVF – the second IVF of the package, again 3 blastocysts were created. After one more course of adenomyosis treatment Sophia came back to us for her third embryo transfer in OLGA Clinic.  This try was successful and now Sophia and Matias have a wonderful son and two more blastocysts safely preserved in our cryobank, waiting for their time to come.
Conclusions:
I would like to underline the two main milestones that played crucial role in Sophia's and Mattias' IVF process: 
Individualized ovarian stimulation and excellent embryological lab protocols in OLGA Clinic resulted in 6 blastocysts in 2 IVF cycles after the couple had gotten just one blastocyst in 3 IVF cycles in a local clinic.
The endoscopic in-depth examination of the uterus with the use of unique methodology and a complex individualized treatment given as a preparation to the embryo transfer helped us to create the best environment for the VIP embryo. 
The only thing I regret today in 2022 is that back in 2019 we have not done PGT-A on Sophia's and Mattias' blastocysts. The classical studies indicate that PGT-A increases live birth rates per embryo transferred and reduces the number of embryo transfers till birth in women 35 and older using their own eggs. These studies indicate that PGT-A do not increase success rates in younger women using their own eggs. PGT-A helps to identify and exclude from usage embryos with abnormal number of chromosomes, and it is considered that in younger women the proportion of abnormal blastocysts is low.
By the middle of 2022 we have learned that in younger women, who have had multiple IVF failures behind the proportion of chromosomally abnormal embryos may be significant. We have not tested Sophia's and Mattias' blastocysts by PGT-A and we do not know how many of those 4 blastocysts transferred in our clinic were chromosomally normal. We can only speculate that had we tested them genetically prior to transfer, we might have found that only 3 or 2 of those 4 were chromosomally normal and would have prioritized them when choosing the best embryo for transfer.
Today we broadly recommend PGT-A to women who have previous unsuccessful IVF attempts."