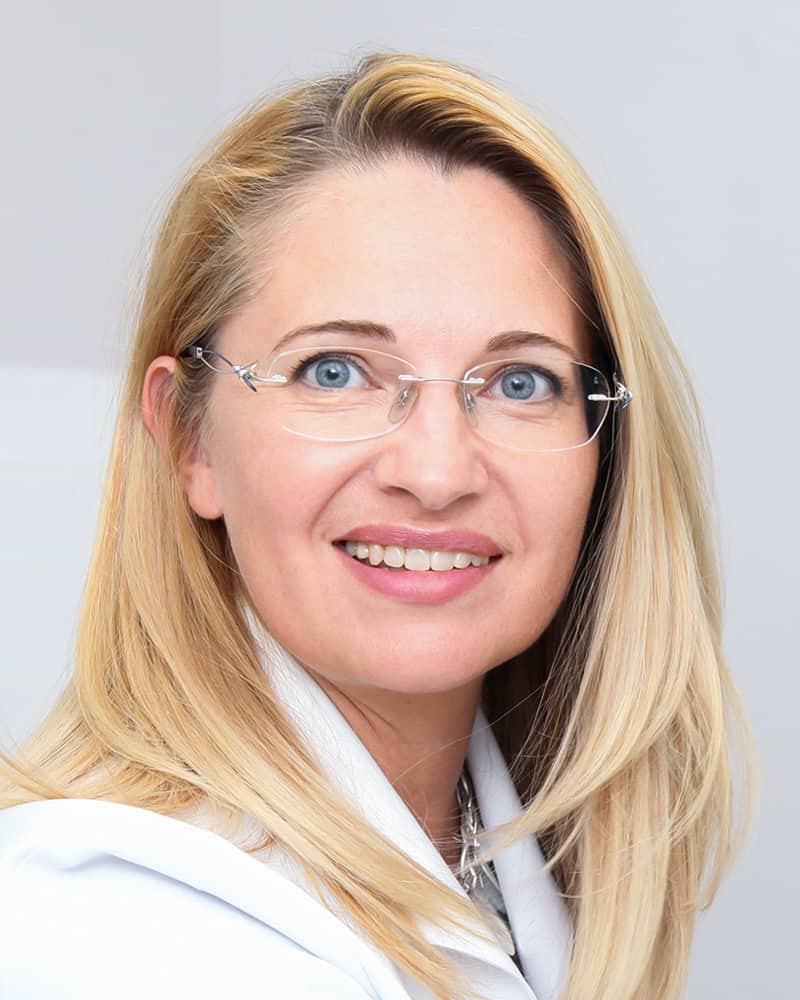 In 2014, for the first time in Russia, Dr Elena Lapina made it possible for a woman to give birth after transplantation of ovarian tissue: the tissue was removed and frozen before the patient underwent chemotherapy and radiotherapy. After achieving the remission, Dr Elena Lapina performed ovarian tissue transplantation during a laparoscopy procedure, later on Dr Elena proceeded with the patient's ovarian stimulation, egg retrieval and embryo transfer. In July 2015, a healthy girl was born at the estimated delivery date.
Dr. Elena Lapina's clinical and scientific interests lie in finding the ways to  overcome early pregnancy loss and recurrent implantation failures.
Dr. Elena Lapina is a consistent adherent of the philosophy of taking care of the endometrium during an intrauterine surgery.
The work of my life
I would like to talk here about a Woman, about her beauty and emotional subtlety, about femininity and its inner nature... The beauty of a woman for me is in everything: outside and inside, in her every cell and sometimes even in completely, it would seem, unsightly things. This is the starting point for me and my guiding force throughout my professional life. For me, to help a woman get pregnant means to help her inner feminine nature, which is profound and genuine. Perhaps that is why today I am where I am and do what I do, putting now into words what my work means to me at the level of feelings, mind and experience.
From my very childhood I knew that I would be a doctor, although there were no doctors in my family. Back then my understanding of the profession was childishly simple: to be a doctor means to help and remove pain, to take away something that hurts. As a student, when I realized that I wanted to study Obstetrics and Gynecology, the difference between these two areas was clearly distinguished in my head: obstetrics is about a healthy, happy person who just needs not to be disturbed, but treating and eliminating pain is about gynecology. My brain, having been accustomed to solving problems since my time in a mathematical school, immediately deduced a formula where surgery became the most effective, fastest and brightest way to cure, and this is how the direction of my studies was chosen. Although I did not expect that, having come closer to medicine, especially in my 3rd – 4th year of studies, my mathematical mindset would protest against the uncertainty of cause-and-effect relationships that it finds in medicine, against the lack of specificity in tools and steps. It is already today, thanks to the accumulated experience and knowledge, I see and understand them better, I can make a pattern out of them, which gives this beauty of an "easy" solution for an effective treatment... But at those times it was still far away, I needed knowledge and practice.
Then I moved to St. Petersburg, completing my residency at the same time, and began working as a gynecological surgeon in a large public hospital. I was getting more and more convinced that surgery is the approach that really helps. My family philosophy helped me, pointing the way: do rather than talk, because the best manifestation of care is acting. It is today that I understand that words are very important, but there is an entire journey that lies from that understanding to my nowadays views.
And this journey started when I began to combine outpatient appointments with work in the department of Gynecological Surgery. This was no longer the time for quick decisions, as it was in surgery, but the time for analyzing the situation and for building logic chains that I love so much and that are important to me when treating a patient. Working in an outpatient department I realized two things that became crucial for my professional path. First, by expanding my professional knowledge, I became deeply interested in such a stage of treatment as IVF. Secondly, I understood the importance of words in the process of treatment, the value of communication with a person and the value of a person herself! And everything began to evolve into a certain vision: choosing the right instrument in the operating room became as important for treatment as choosing the right word for the patient at our appointment.
For me, treating a patient is about empathy, it is a desire to help this particular woman sitting now in front of me. The same request can be solved in different ways, and it is important for me to understand this ''difference'' in order to be able to help. Of course, cause-and-effect relationships are still important, I see them, and they still have to form a certain pattern, and, if some medication or approach does not harmoniously intertwine into it, then I must redesign the pattern. This is what treating a patient means to me today.
One patient's unique story
Dr. Elena Lapina about the very first baby in Russia she has created via ovarian tissue transplantation in a cancer patient in 2014
"On the one hand, this is treatment — challenging, cutting-edge and still experimental — but just treatment. On the other hand, this is a story of a young woman called Dasha. A story that began with a heartbreaking sorrowful event. 
In the year 2009, Dasha received the shocking news that she had Hodgkin's lymphoma. Unfortunately, the first-line treatment was not effective, and the situation was getting worse.
In 2011, Dasha needed to undergo high-dose chemotherapy followed by bone marrow transplantation. She was told by medical specialists that this kind of chemotherapy leads to 100% loss of follicles in the ovaries and therefore results in infertility.
All things considered, someone would just give up and sink into despair, but Dasha never did. She found a medical center that specialized in fertility preservation in patients with cancer. As the treatment had to be started at the earliest opportunity, it was not possible to do ovarian stimulation to freeze the oocytes at that time. Dasha was offered the only other alternative left, which was taking her ovarian tissue through laparoscopy and preserving it to transplant later.
Dasha's chemotherapy went successfully, and already by 2012 it was clear that soon it will be possible to perform a frozen ovarian tissue auto-transplantation. 
At that time, no expert in Russia practiced such surgeries. Moreover, there were only about 40 children in the entire world that were born as a long-term result of this surgery. I was invited to work on this experimental project as a surgeon and a fertility specialist.
It turned out that we had a great deal of work to do all by ourselves. Of course, there were medical articles on that matter and actual birth cases were reported at international conferences, but the details of working with ovarian tissue and the transplantation procedure itself were very scarcely described. Together with a dedicated embryologist, we devoted the entire year to working on thawing and developing details of a transplant, carefully and precisely. As we were figuring the technicalities, we were also gradually speeding up, sharpening our skills even more. 
As a result, when in 2013 Dasha's oncologist finally gave the permission for the transplantation and pregnancy, our surgery went flawlessly, steady and accurately. No complications were reported afterwards, and in 27 weeks after the procedure, Dasha's ovaries were working again, with her hormonal levels back to normal. 
To this point in her treatment, Dasha was already married, and her husband was always there for her. This was when they decided to expand their lovely family with a child. A half a year passed, and we were ready to help Dasha get pregnant. After the IVF treatment in a modified natural cycle, her pregnancy was achieved and it continued without complications. In July 2015, Dasha gave birth to a healthy baby girl on the estimated due date.
That was not all: in 2017, the wonders continued and Dasha conceived naturally! After all these struggles with an awful disease, her beautiful family received one more heavenly gift — another baby!  
Living life to the fullest is a dream of every patient who had been fighting cancer and finally won. For young men and women this idea includes having their own child. And we are by their side to fulfill this dream!"
Education and further education courses 
1998 — Yaroslavl State Medical Academy, General Medicine 
2000 — Yaroslavl State Medical Academy, Medical residency in Obstetrics and Gynecology 
2007 — Research Institute of Obstetrics and Gynecology named after D.O. Ott, PhD thesis on pregnancy in women with a hereditary thrombophilia
2013 — Saint Petersburg State University, retraining in Ultrasound Diagnostics 
2018 — International Association of Postgraduate Education, "Public health and healthcare" (retraining) 
2019 — International Association of Postgraduate Education, "Public health and healthcare" (professional certificate is valid until 12.2024).
2019 — Research Institute of Obstetrics and Gynecology named after D.O. Ott, Obstetrics and Gynecology (professional certificate is valid until 12.2024).
2020 — Research Institute of Obstetrics and Gynecology named after D.O. Ott, Ultrasound Diagnostics (professional certificate is valid until 12.2025).
Continuing professional education
2004 — «Hysteroscopy in Gynecology», Russian Medical Academy of Postgraduate Education of the Ministry of Health of Russia.
2004 — «Abdominal and Retroperitoneal Endovideosurgery», Russian Medical Academy of Postgraduate Education of the Ministry of Health of Russia.
2009 — «Selected problems in surgical laparoscopy and hysteroscopy», Research Institute of Obstetrics and Gynecology named after D.O. Ott 
2010 — Advanced methods of gynecological endoscopy, Center International De Chirurgie Endoscopique (CICE), France.
2013 — «Assisted reproductive technologies in male and female fertility treatment», First Moscow State Medical University named after I.M. Sechenov.
Work experience
Starting from 2019 I devote myself to the patients of the O.L.G.A. Fertility Clinic 
2004–2019 — Fertility specialist and gynecological surgeon, Department of Gynecological Surgery, Multi-discipline private clinic «Scandinavia», «AVA-Peter».
2000–2013 — Gynecologist and gynecological surgeon, Department of Gynecological Surgery, St. Petersburg Public Hospital №2.
@ivf_mother_after_40 about Dr. Elena:
The fantastic Dr.Elena Lapina! Sharp brains & a big warm heart. In August 2019 she performed my embryo transfer with donor eggs, =putting our baby inside me. And I am now 38 weeks pregnant. You see, it wasn't just WHAT she did but also HOW. I could feel how genuinely invested she was, with her full heart & mind in it. I felt so safe! Every morning when I wake up, I think of how privileged I am, to have had the opportunity to seek & receive help from this amazing clinic and staff. True miracle makers. I can never thank you all enough. And of course I hope you will get through these tough corona-times. For you. And for the rest of us. We need you.