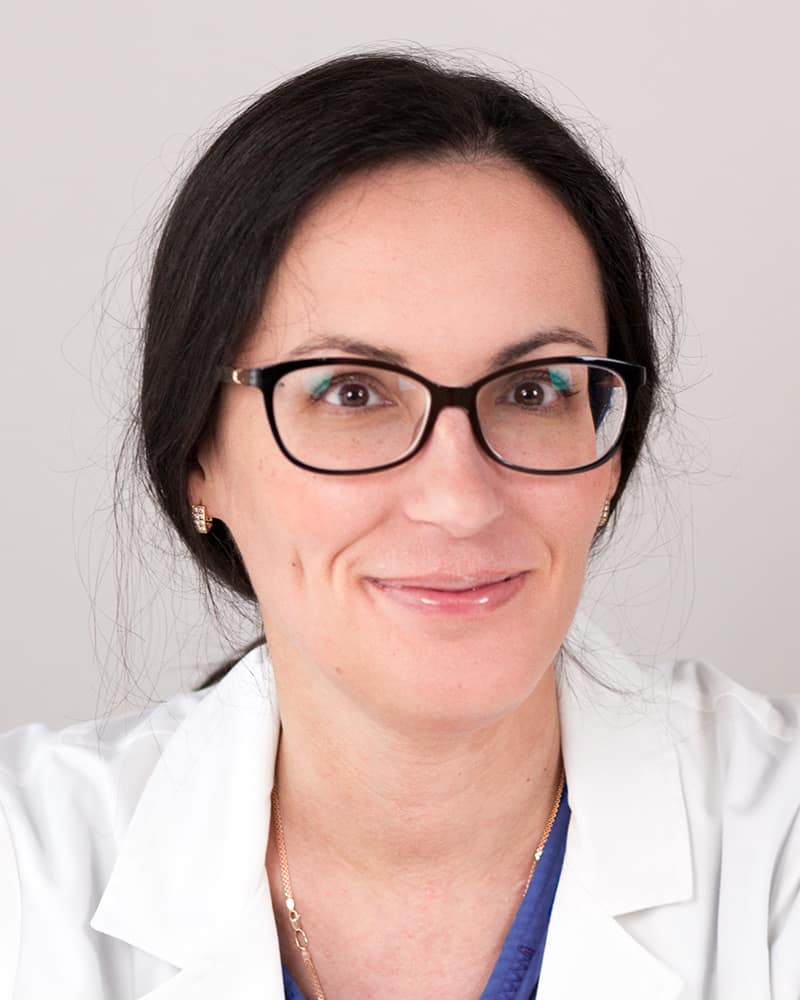 My path towards my profession
My path towards medicine started when I studied at school and dreamt of becoming a doctor and biologist. My dream led me to the Medical Academy where I was lucky to meet Dr Olga Zaytseff. 
I became interested in the field of IVF already by the time I received my diploma, but at that time this area of ​​medicine was just starting to develop in Russia. Nevertheless, following my dream, I continued to study, gaining knowledge in areas that are important for working in IVF. During that time I acquired valuable experience in gynecological consulting the patients of all ages, from newborns to women in menopause. But my professional interests have always laid in the sphere of gynecological endocrinology and help with infertility and miscarriage. Therefore, I wanted to connect my future with fertility, which has always attracted me with its dynamic development, the energy of the process of a new life being born and the incredible emotions that you experience when you manage to achieve the result - the birth of a baby.
How excited I was to learn that Dr. Olga Zaytseff began working in the IVF clinic immediately after graduation. That is why when in 2015 Olga offered me to join her team in a fertility clinic I agreed immediately. To do what I love together with such a fascinating person as Olga — what could be better?
Since then, my work for me has been both an opportunity to meet different people, each of whom is beautiful and unique in their own way, and a realization that I can really help. It is really important for me to change lives for the better, to make people happier. I believe that this is one of the meanings of my life. And it doesn't matter what I do: an embryo transfer, an egg collection or I just talk to a patient - for me all these are integral parts the process, which is aimed at achieving one of the most important goals in a person's life - the birth of a long-awaited child.
And the other side of my profession is an opportunity to have my medical practice and at the same time to follow the scientific research. As a child, I dreamed of becoming a scientist, and to have a job that is connected with communication. Medicine allowed me to accomplish both dreams. Today, IVF is a very vibrant and updated area of scientific medical knowledge. Therefore, it is important for me to follow scientific research, get acquainted with the scientific work of my colleagues around the world, understand the value of applying the discoveries made and be able, thanks to this, to better help a particular person.
And yet, the main emotional reward in my work has always been and is - the happiness of seeing my former patients as happy mothers, sometimes after many years of struggle for their happiness.
The O.L.G.A. Fertility Clinic
Now I am part of the O.L.G.A. Clinic team and deal only with fertility, but my experience in general gynecology, the experience of treating patients with pregnancy losses and supporting pregnancies helps me to see the situation of my current patients not only within the IVF procedure, but also beyond it.
I must admit that I cannot say that this work is easy. I carefully analyze each case and look for the possible ways to succeed even in seemingly hopeless situations. This requires a lot of energy, as I am an emotional person and I deeply feel and live through each patient's story. On the other hand, the most important thing for me is to understand that my efforts have led to the goal. All emotional resources are fully replenished if one more small miracle has come into this world.
I am proud of my work because it gives me the opportunity to change the world for the better. At least for those who I managed to help.
And I also love my job, because I do not do it alone, but together with an amazingly close-knit team. Each member of the team is unique, inimitable and beautiful in its own way. And we are all united by a common philosophy of approach to our patients and colleagues. Only with such support can really good results be achieved.
My education and further professional training
| | |
| --- | --- |
| 1996 — 2002 | St. Petersburg State Medical Academy named after I.I. Mechnikov, General Medicine |
| 2002 — 2004 | St. Petersburg Medical Academy of Postgraduate Studies, residency in Obstetrics and Gynecology |
| 2005 | St. Petersburg State Pediatric Medical University, professional development course in colposcopy |
| 2006 | St. Petersburg State Pediatric Medical University, primary specialization in Pediatric and Adolescent Gynecology |
| 2006 — 2007 | St. Petersburg Medical Academy of Postgraduate Studies, two courses of professional skills development in gynaecological endocrinology |
| 2011 | St. Petersburg Medical Academy of Postgraduate Studies, primary specialization in Clinical Ultrasound |
| 2016 | North-Western State Medical University named after I.I. Mechnikov, course "Health Organization and Public Health" |
| 2019 | North-Western State Medical University named after I.I. Mechnikov, Obstetrics and Gynecology (professional certificate is valid until 09.2024) |
| 2020 | Сontinuous medical education, ultrasound diagnostics (professional certificate is valid until 10.2025) |
| 2020 | Сontinuous medical education, healthcare organization and public health (professional certificate is valid until 12.2020) |
My professional experience
| | |
| --- | --- |
| 2004 — 2006 | St. Petersburg maternity welfare clinic for women and youth, pediatric and adolescent gynecologist |
| 2006 — 2011 | St. Petersburg maternity welfare clinic, endocrinological gynecologist (menstrual irregularities, climacteria, infertility and miscarriages issues) |
| 2011 — 2015 | Private clinic "Medica" in St. Petersburg, endocrinological gynecologist, ultrasonograther (prenatal care, diagnostics and treatment of gynecological disorders in children and adults, specialized consulting of patients with infertility and recurrent miscarriages) |
| 2015 — 2019 | AVA-Peter Clinic, fertility specialist in the International department headed by Dr. Olga Zaytseff |
| 2019 till now | O.L.G.A. Fertility Clinic, leading fertility specialist |
My personal interests
My free time that I do not have much as I am a person who is passionate about work I try to devote to my family, in particular to my beloved son Nikolai. My little Kolya was born only 10 years after I started dreaming about him, after a long-term treatment and four IVFs. So, you see, even fertility doctors might not be lucky with having their children when they want and plan to. But when I finally succeeded, 6 years ago, I felt that my second life started. We really enjoy our time together: for example, we go to a swimming pool, draw, learn and sing songs and we really love travelling. 
If it happens that I finished my work, spent time with my family and still have some time for myself, there is nothing better for me than a good book. I have a wide literary interest: adventure, fantasy, detective stories, and classics. For me, reading is always more than a plot, it's more about communicating with a book. Warm, pleasant sensations from such a dialogue and ... tactility are important to me. That's why I couldn't switch to e-books.
The best book for me is the one that gives you the opportunity to feel and think deeply. I also like when a book allows you to immerse yourself in it for a long time, so novels are more close to me than short stories. Reading page after page, I seem to find myself in a wonderful parallel world, which is very close to me, because it was partly created by my imagination.
I am glad that my husband shares my love of reading. Both my husband and I grew up in families where the library occupied an important place. The love of books has become an integral part of our family. We have a large library, which we have been completing for many years. And, of course, there is always room on the shelves for new editions of medical literature...