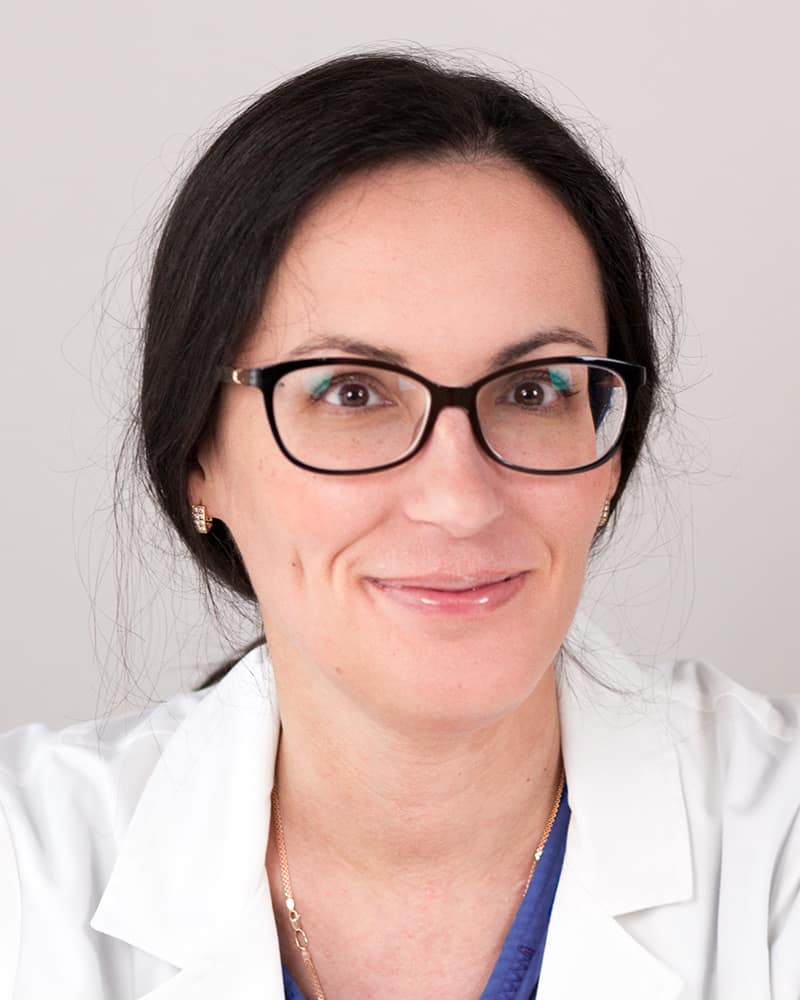 My name is Alena Egorova and I am an endocrinological gynecologist and leading fertility specialist at O.L.G.A. Clinic.
Path that led me to O.L.G.A. Clinic
My path towards medicine started when I studied at school and dreamt of becoming a doctor and biologist. My dream led me to the medical academy where I was lucky to meet Olga Zaytseff. For some time after our professional ways went in different directions, we continued our studies and work in different places but always maintained friendly relationships. During that time I acquired valuable experience in gynecological consulting of patients of all ages, from newborns to women in menopause. But my professional interests have always lain in the sphere of gynecological endocrinology and help with infertility and miscarriage. The main emotional reward for me has always been the joy to see my former patients becoming happy mothers after sometimes many years of unsuccessful fight for their motherhood.
That is why when in 2015 Olga offered me to join her team in a fertility clinic I agreed immediately. To do what I love together with such a fascinating person as Olga – what could be better?
My work in O.L.G.A. Clinic
Now I work only in fertility field but my experience in general gynecology, in consulting patients with recurrent miscarriages and in prenatal care helps me now to see the medical cases not only in terms of IVF procedures but also beyond that.
I must admit that my work is not easy. On the one hand, it is tough to often see patients who are almost desperate to become parents. I am a very sensitive person and I feel for every patient very acutely. It is also sometimes difficult to go through the treatment process together with patients especially when they need to have long and complicated preparation for the procedures, face failures and start all over again. As a doctor, I thoroughly study every medical case and try to find a promising way in the most unpromising scenarios. On the other hand, it is crucial to understand that all the efforts we and our patients put in this process are never in vain. They are totally worth the birth of one more little miracle in this world.
My education
| | |
| --- | --- |
| 1996 — 2002 | St. Petersburg State Medical Academy named after I.I. Mechnikov, general medicine |
| 2002 — 2004 | St. Petersburg Medical Academy of Postgraduate Studies, residency in obstetrics and gynecology |
| 2005 | St. Petersburg State Pediatric Medical University, professional development course in colposcopy |
| 2006 | St. Petersburg State Pediatric Medical University, primary specialization in pediatric and adolescent gynecology |
| 2006 — 2007 | St. Petersburg Medical Academy of Postgraduate Studies, two courses of professional skills development in gynaecological endocrinology |
| 2012 | St. Petersburg Medical Academy of Postgraduate Studies, primary specialization in clinical ultrasound |
My professional path
| | |
| --- | --- |
| 2004 — 2006 | St. Petersburg maternity welfare clinic for women and youth, pediatric and adolescent gynecologist |
| 2006 — 2011 | St. Petersburg maternity welfare clinic, endocrinological gynecologist (menstrual irregularities, climacteria, infertility and miscarriages issues) |
| 2011 — 2015 | Private clinic "Medica" in St. Petersburg, endocrinological gynecologist, ultrasonograther (prenatal care, diagnostics and treatment of gynecological disorders in children and adults, specialized consulting of patients with infertility and recurrent miscarriages) |
| 2015 — 2019 | AVA-Peter Clinic, fertility specialist in the international department headed by Dr. Olga Zaytseff |
| 2019 till now | O.L.G.A. Fertility Clinic, leading fertility specialist |
My personal interests
My free time that I do not have much as I am a person who is passionate about work I try to devote to my family, in particular to my beloved 6-year-old son Nikolai. We really enjoy our time together: for example, we go to a swimming pool, draw, learn and sing songs and we really love travelling.  My little Kolya was born only 10 years after I started dreaming about him, after a long-term treatment and four IVFs. So, you see, even fertility doctors might not be lucky with having their children when they want and plan to. But when I finally succeeded, 6 years ago, I felt that my second life started.
If it happens that I already finished my work, spent time with my family and still have some time for myself, there is nothing better for me than a good book.
I am proud of my work because it gives me the chance to change the world for the better. At least for those people who I managed to help.
One more reason why I love what I do is that I do not stand there alone, but with a fantastic and tight-knit team. Every person in our team is unique and perfect in her/his own way. We share the same philosophy towards how we approach our patients and each other. Only with such a support one can reach the heights.