Welcome to O.L.G.A. Fertility Clinic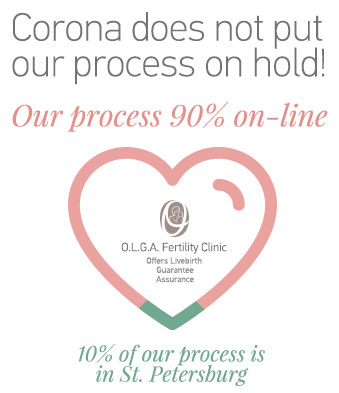 Dear Friends, even if opportunities of travelling are limited today, exactly now you have a unique chance to give yourself time for what you have never had time before:⠀⠀⠀
To attend our useful webinars which may help you rethink your past fertility treatments, learn about efficient medical strategies, change your attitude to your process, treat yourself better as a human being in this process.
To look at your fertility journey from a helicopter together with one of our expert doctors and see how much you have already done, discuss and choose the most successful and comfortable medical route for your future fertility treatment.
To look at your fertility journey from a helicopter together with one of our perinatal psychologists who are experienced in supporting women in ups and downs of their journeys to maternity.
To normalize your feelings, while talking to our dear patients who have children with our help.
To take supplements at least 2 cycles in advance of your egg retrieval or embryo transfer.
If you consider egg donation or embryo adoption, to have a skype meeting with one of our amazing egg donation team members and to have a gentle introduction into our egg donor database, to slowly surf the database and try to test which egg donor you get a nice feeling about.
Corona does not put our process on hold!
90% of our process is on-line, only 10% of our process takes place in St. Petersburg.
You need at least 3 months from the first consultation with our doctor till actual egg retrieval or embryo transfer because the fulfilment of the 6 steps described above may need time if you wish to treat yourself in a good way in this process and get a successful result.
So please contact us if you wish:
To receive links to the records of our past webinars about egg donation, embryo adoption and PGT-A;
To tell us about your personal needs;
To book some of the consultations described above.
These webinars and consultations with our specialists are not binding and free of charge for you. ⠀⠀⠀⠀⠀⠀⠀⠀⠀
Many couples and single women have attended our seminars and became parents. Please read their testimonials and stories →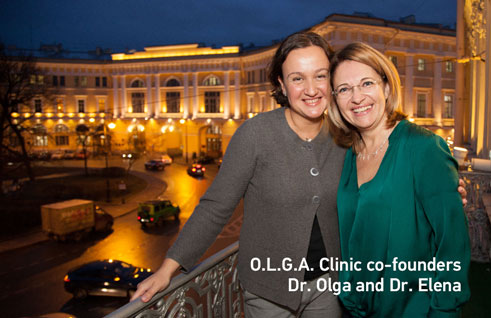 We all know that to achieve success in life we need to be not only competent but also at the right time, in the right place and with the right people ;). What you may be surprised to learn is the fact that these rules start very early in human life and already work for a 5 day old embryo!
In our webinars we share with you how we create competent embryos and help these embryos to be in the right time and in the right place for achieving successful pregnancy.
Dear Friends! We would like to tell you more about our own clinic, which Dr. Olga Zaytseff and Dr. Elena Lapina have opened together 14 February 2019 after having left AVA-Peter Clinic in 2018.
Dr. Elena is very famous and internationally renowned fertility specialist and researcher – she has created the very first baby in Russia after ovarian tissue transplantation in a cancer patient.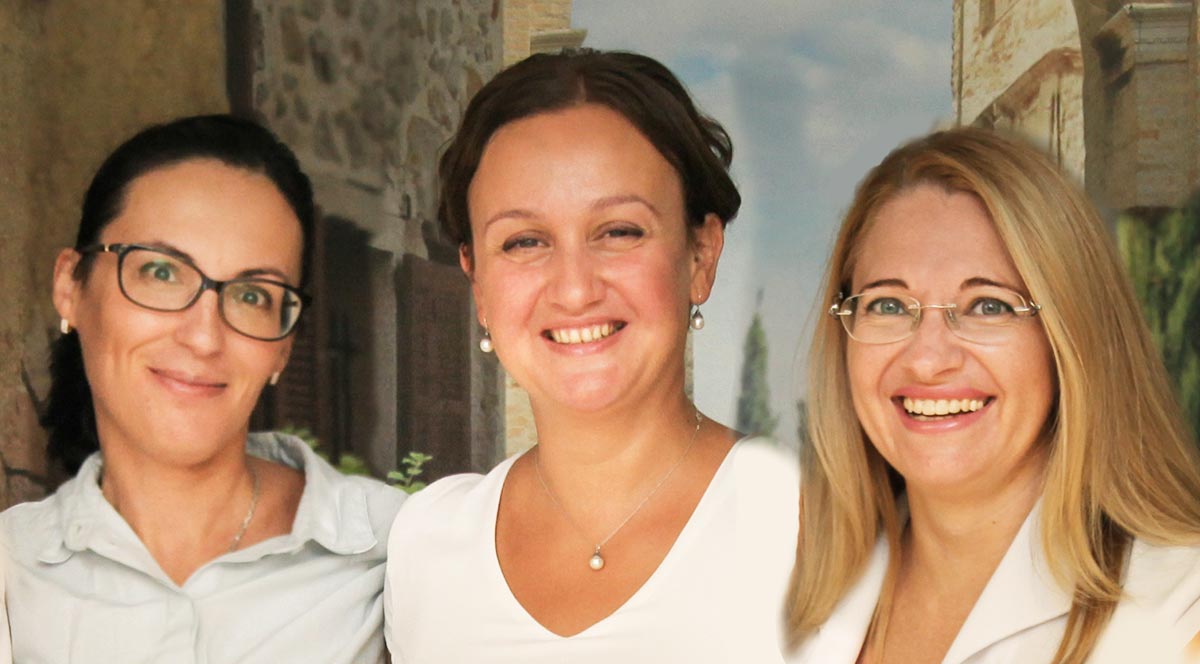 Our leading fertility specialists:
Dr. Alena Egorova, Dr. Olga Zaytseff and Dr. Elena Lapina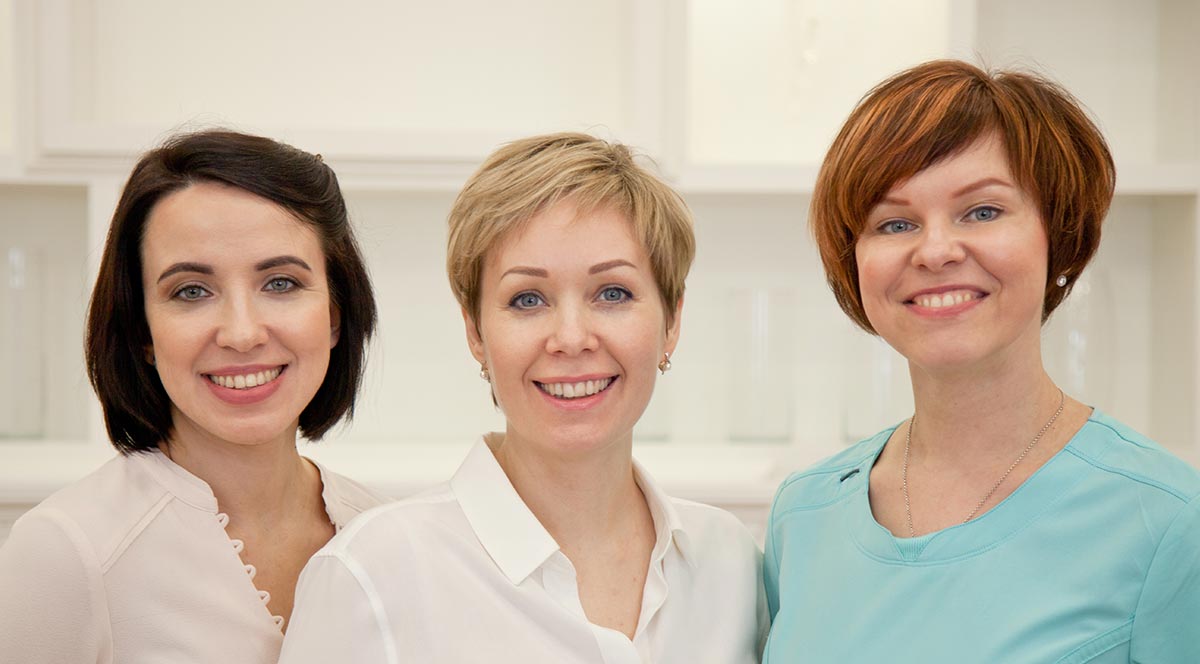 Our leading nurses:
Lisa Bagal, Olga Malysheva, Katia Tint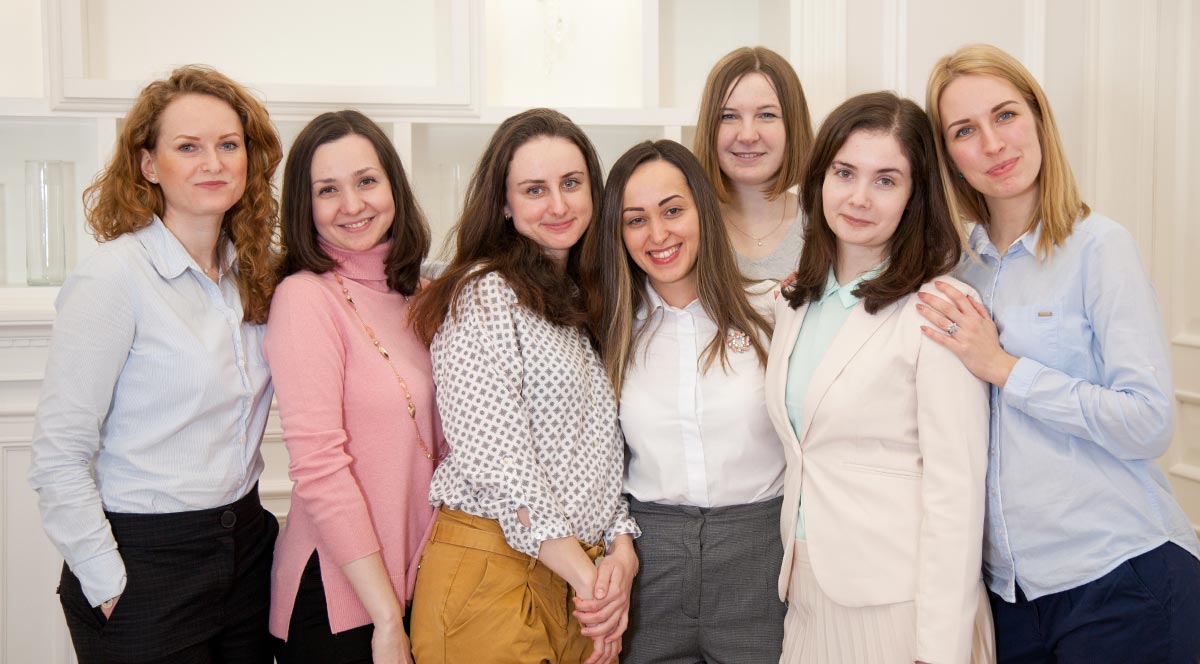 Our patient coordinators: Anna, Diana, Annie, Valentina, Julia, Alla, Valeria
Our leading doctor Alena Egorova, our head nurse Katia Tint, our coordinators Jula, Diana, Alla, Maria, Ann, Annie and all our dear old Team has moved with us into our 900 sq.m building in the center of St. Petersburg.
We have fully renovated this historical building and installed clean embryology lab and operation rooms with air coming through the system of catalytic filters.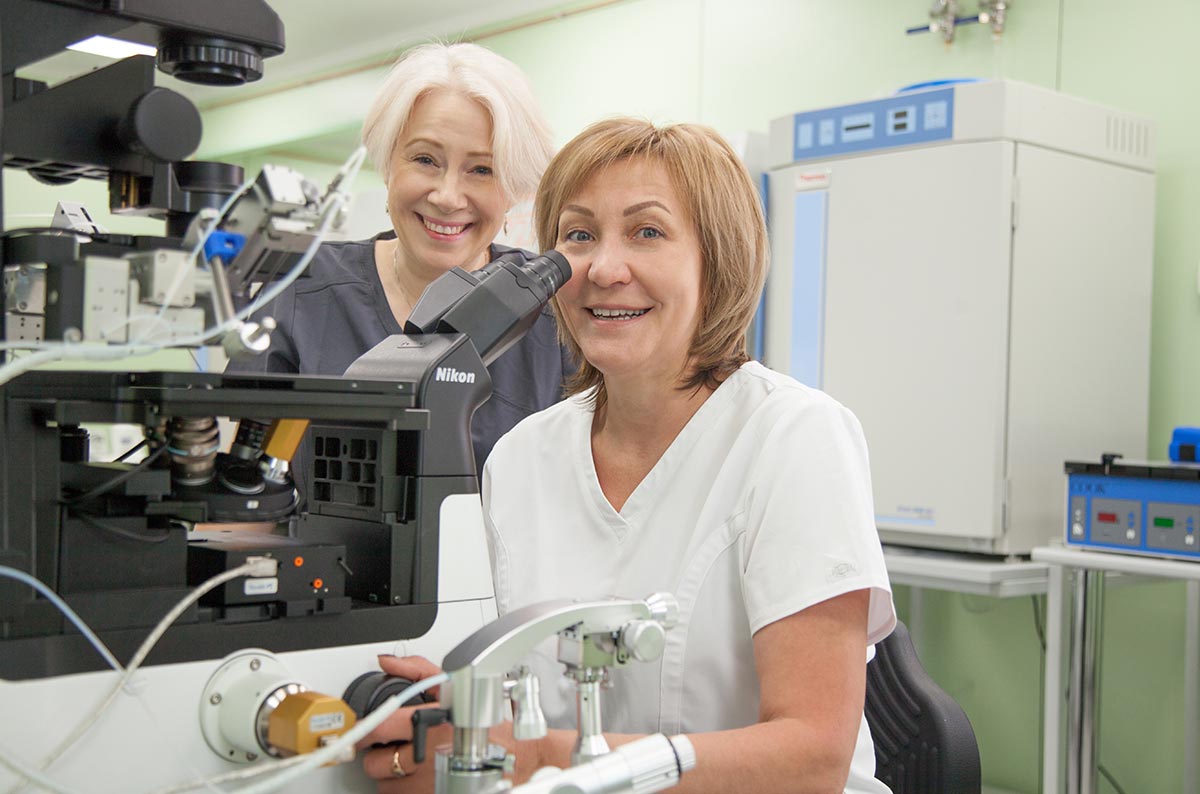 Our embryological lab is run by two the most famous embryologists in Russia: Dr. Anna Gusareva, who moved to us specifically from Moscow, and Dr. Svetlana Shlykova — the most experienced and renowned embryologist in Russia, who has built multiple embryo labs for AVA-Peter in 1996-2018 and now works in our own clinic.
Our team has grown and now more than 60 team members work together under the same roof: doctors, embryologists, nurses, coordinators. Since February we have done more than 600 treatment cycles in our new clinic with excellent success rates.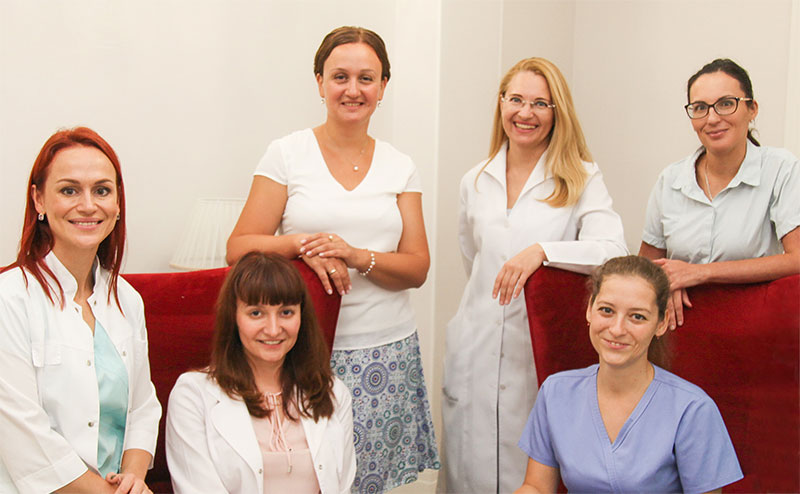 We have now 8 fertility specialists in O.L.G.A. Fertility Clinic:
Standing (from left to right): Dr. Olga Zaytseff, Dr. Elena Lapina, Dr. Alena Egorova
Sitting (from left to right): Dr. Nina Bogdanova, Dr. Irina Uvarova, Dr. Violetta Tikhomirova
Dr. Anastasia Nikitina & Dr. Inna Ladyaeva
Of course our dedicated egg donors have moved with us and our egg donor data base has grown too.
We have named our clinic O.L.G.A. Fertility Clinic. Since 2005 it became a habit for my international patients to say: "I am going to Olga in St. Petersburg". So we kept the name to make it easy for future patients to continue saying the same: "I am going to O.L.G.A. Fertility Clinic in St.Petersburg". We put the concept that we practice since more than 3 years behind each letter of the Clinic's name: Offers Livebirth Guarantee Assurance. To our knowledge today we are still the only fertility clinic in Europe offering patients money back guarantee of live birth: either a baby is born or the money is returned to the patient.
Have questions?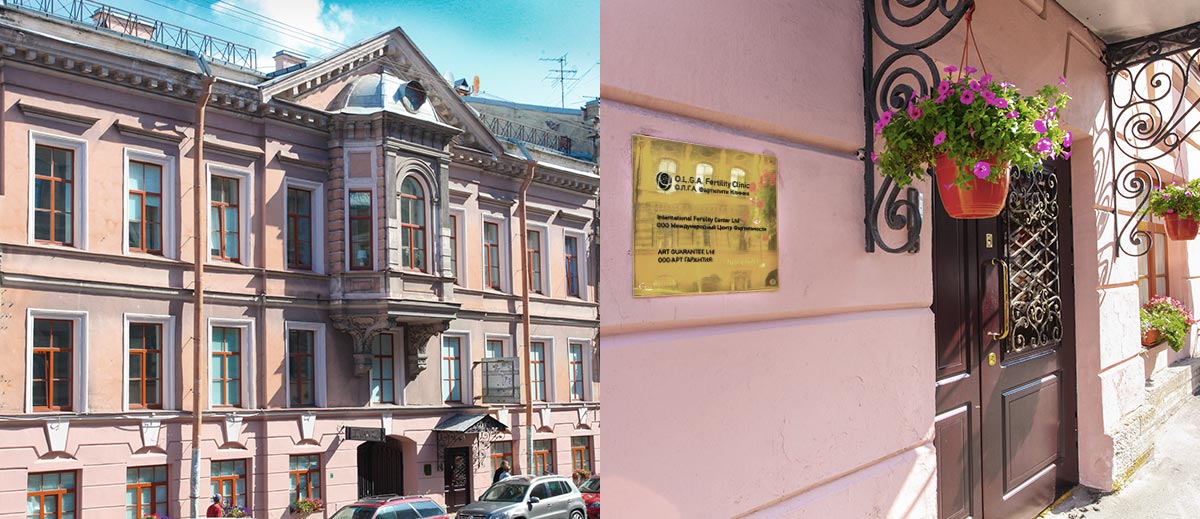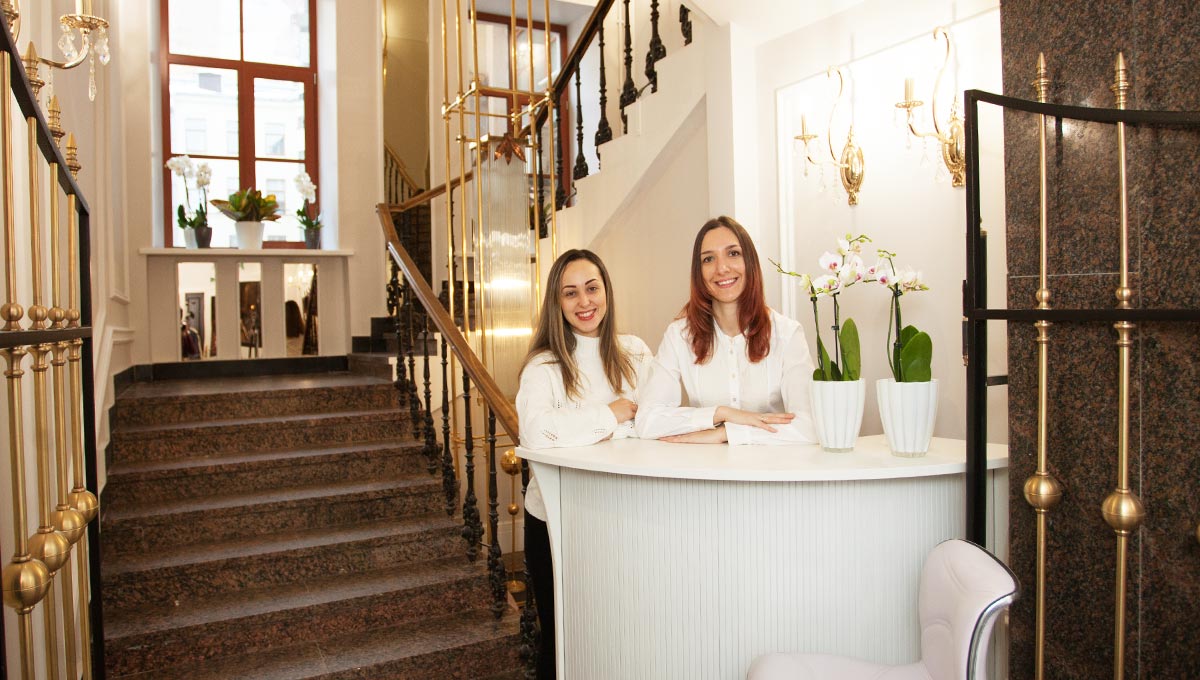 We meet our patients in this beautiful reception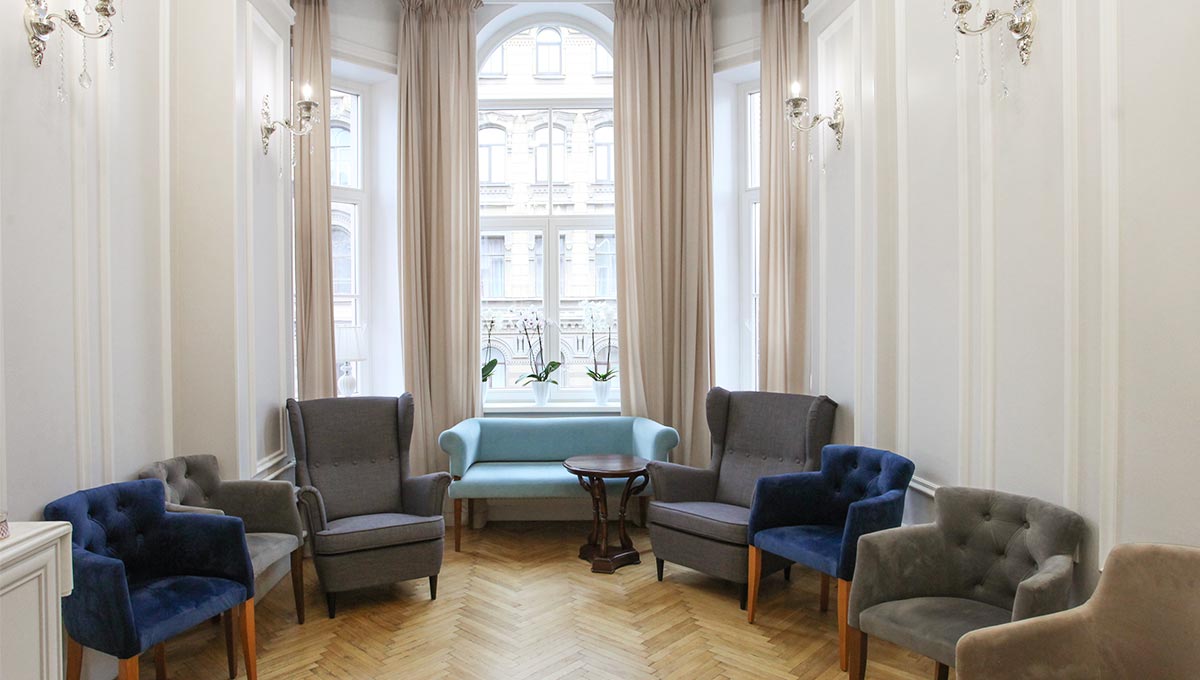 We have no waiting rooms, but a nice library instead, which feels very cozy and homy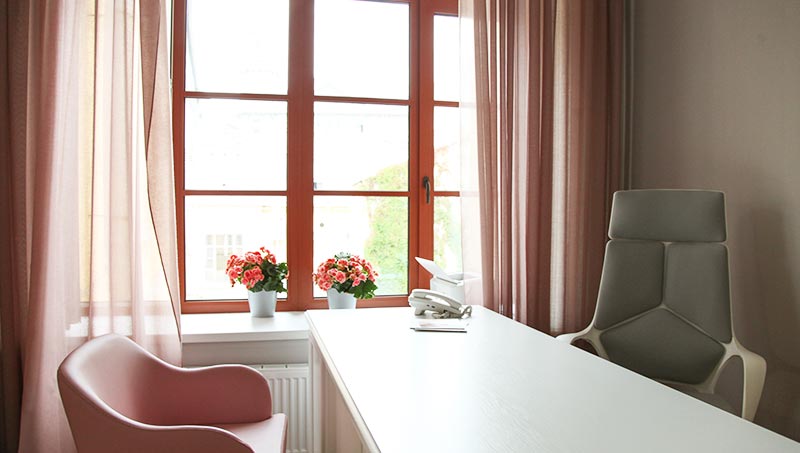 Meetings with doctors and nurses take place in soft comfortable rooms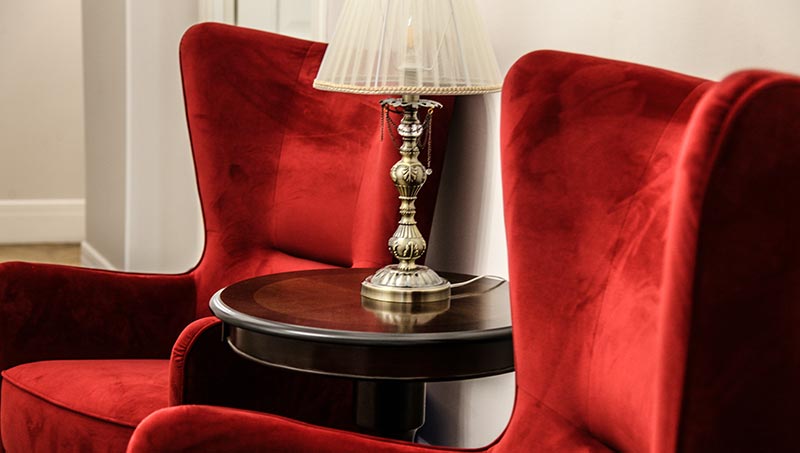 Our clinic is filled with cozy and relaxed atmosphere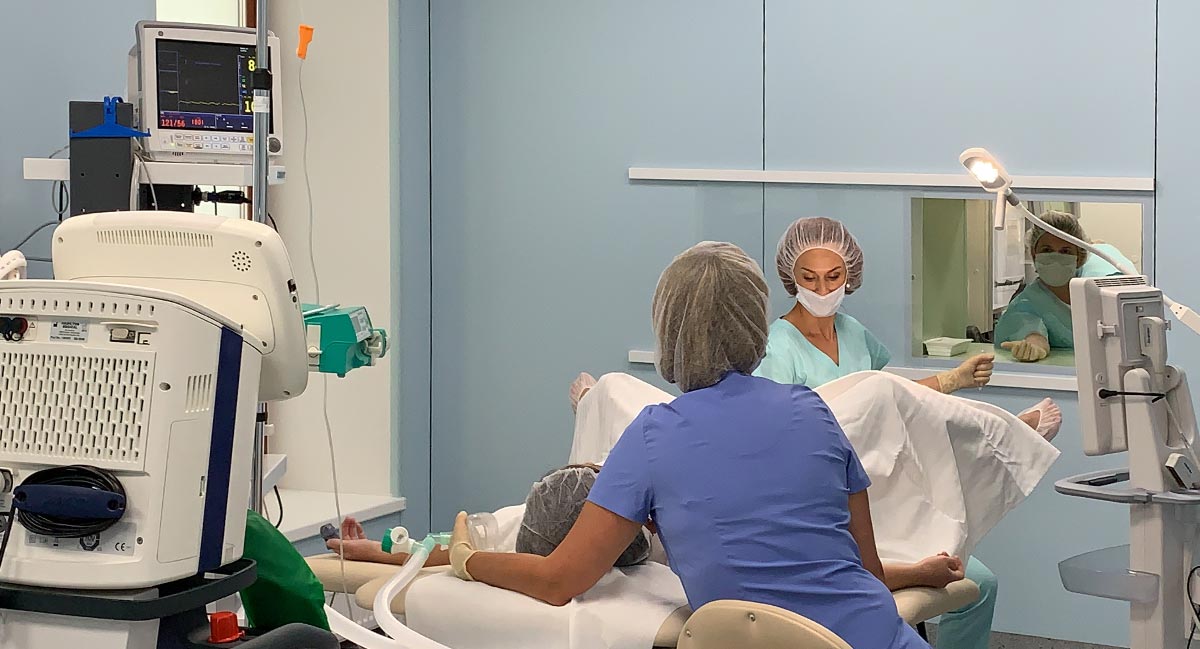 Dr. Nina is collecting eggs. Our operation room is very clean and as comfortable as can be; it is connected to embryo lab by window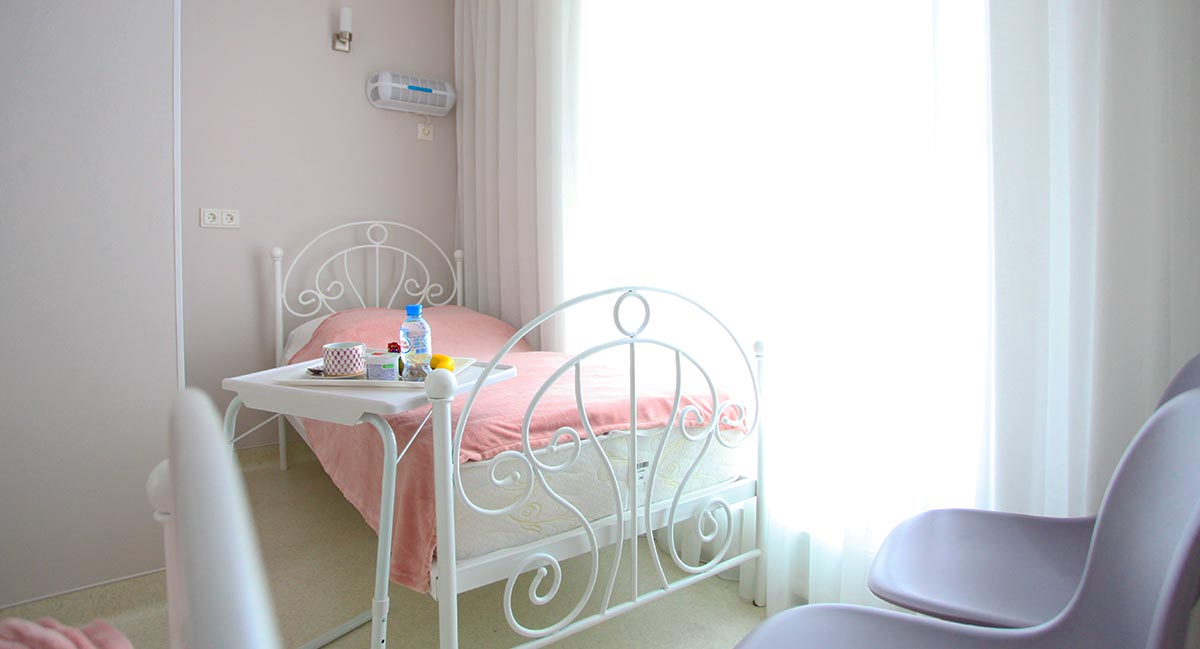 After egg retrieval or hysteroscopy patients rest in cozy nice rooms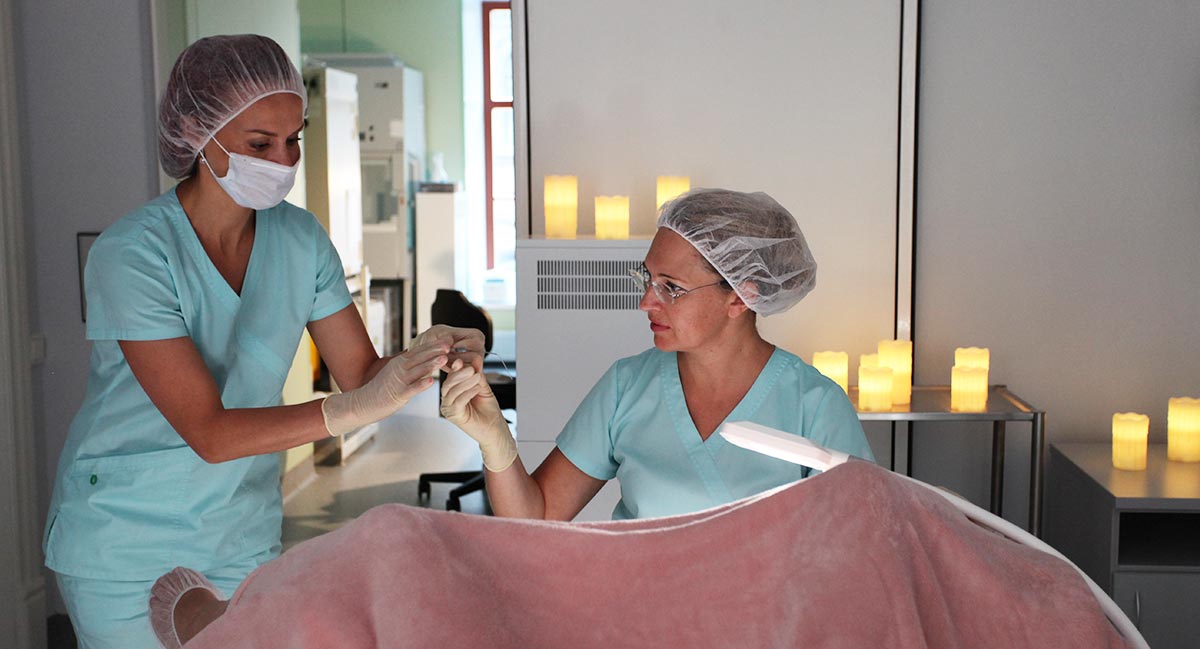 Dr. Elena is doing embryo transfer. Our embryo transfer room is also a part of clean air system but cozy and with soft atmosphere at the same time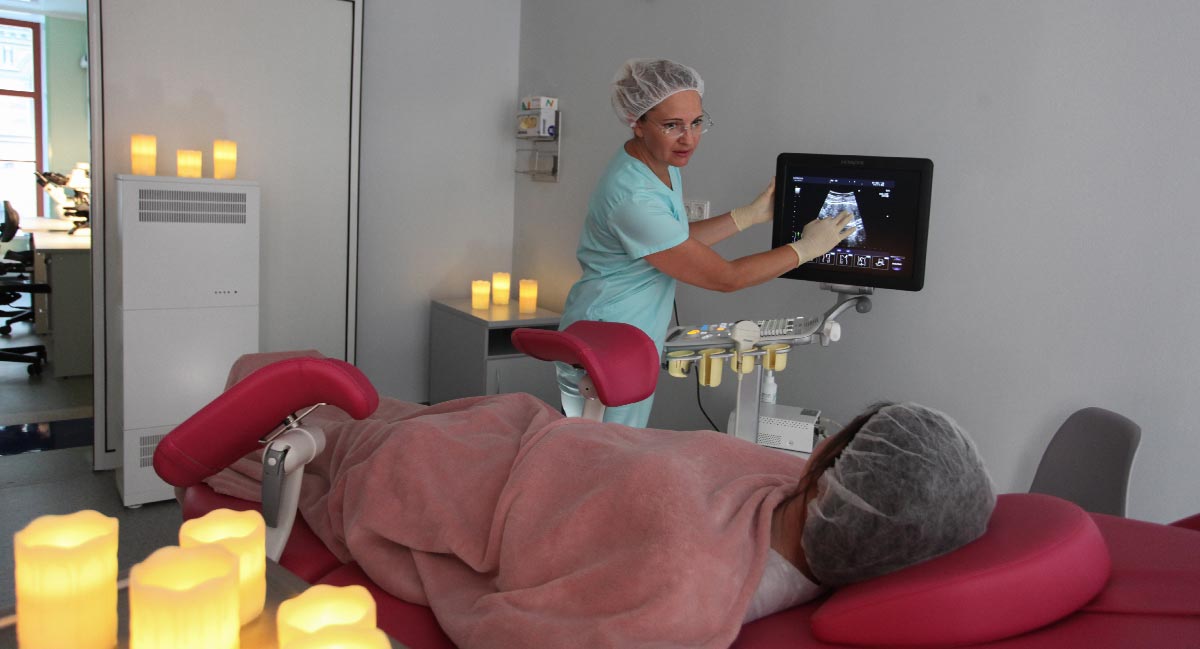 The embryo transfer chair is turned into a bed after the embryo transfer is done so that the patient can rest and listen to Dr. Elena's explanations at the same time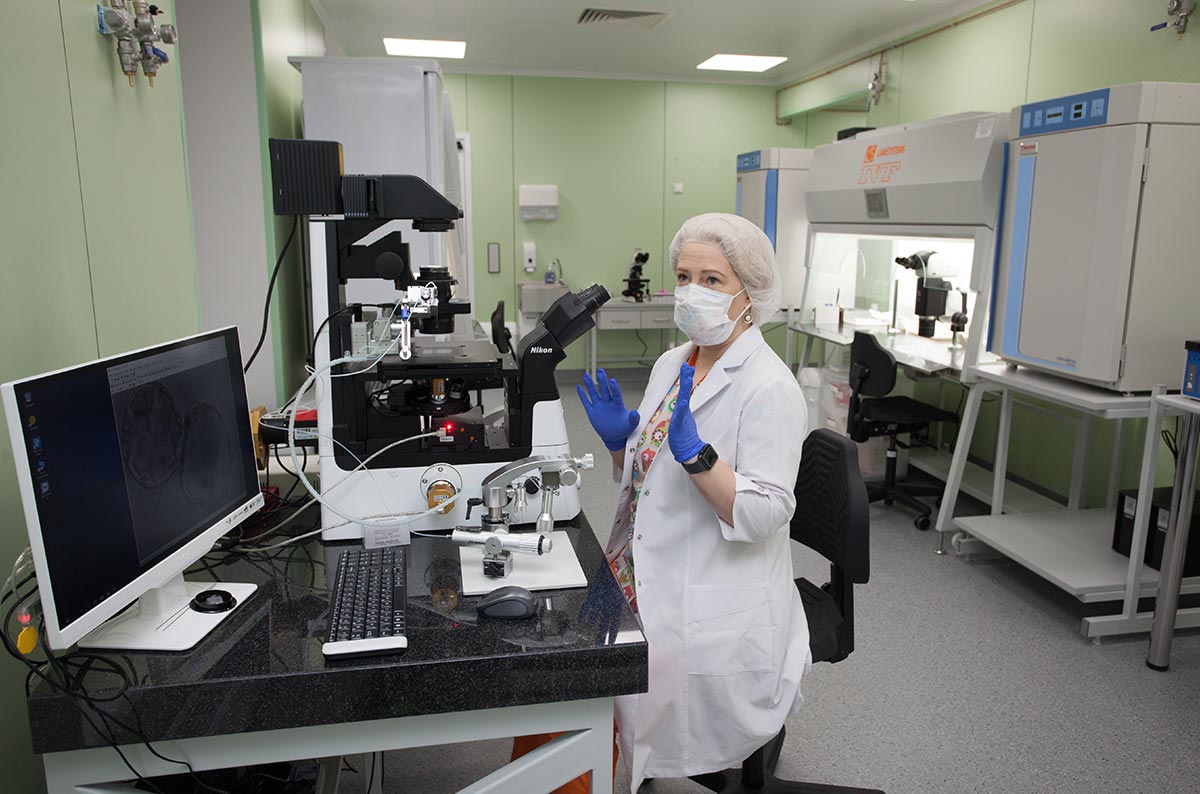 Our Embryolab – this is where miracles happen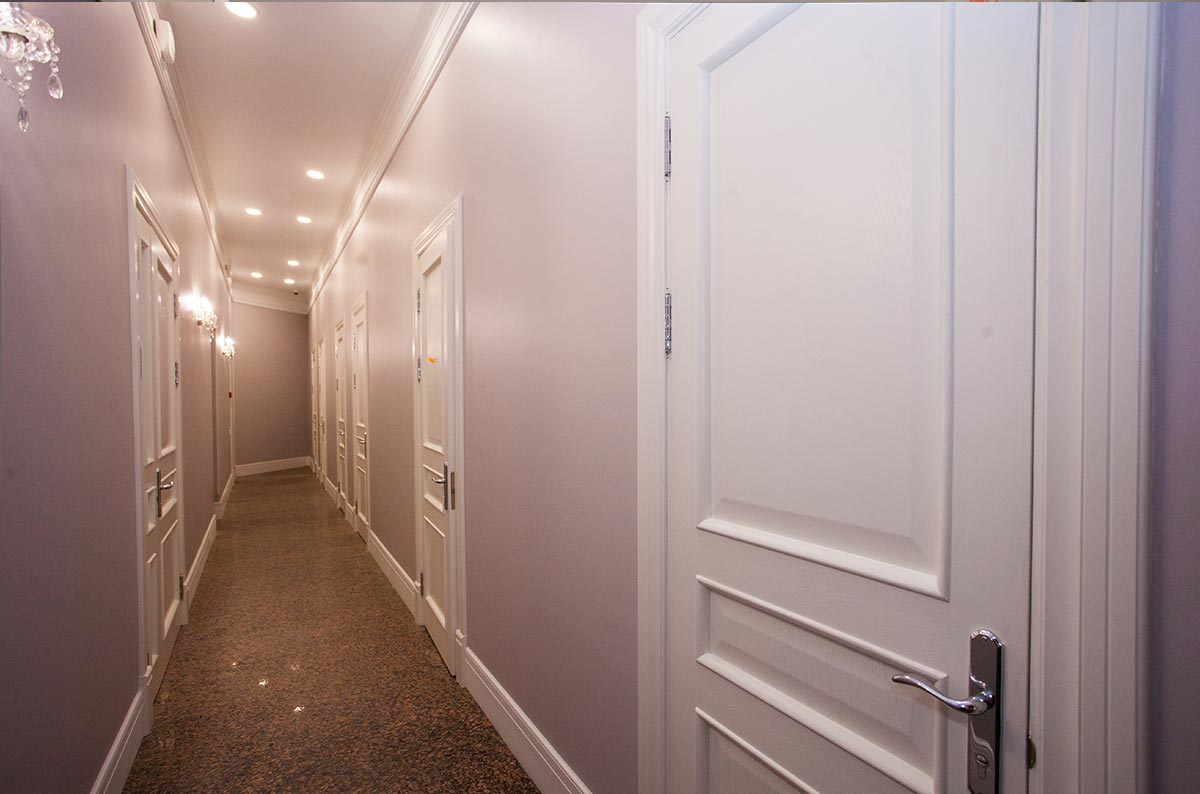 Every coordinator, doctor or nurse has comfortable working space where they can fully focus on dialogs with patients per e-mail phone or skype. This dialog is not less important after patients go back home after transfer. We continue following up, advising and supporting.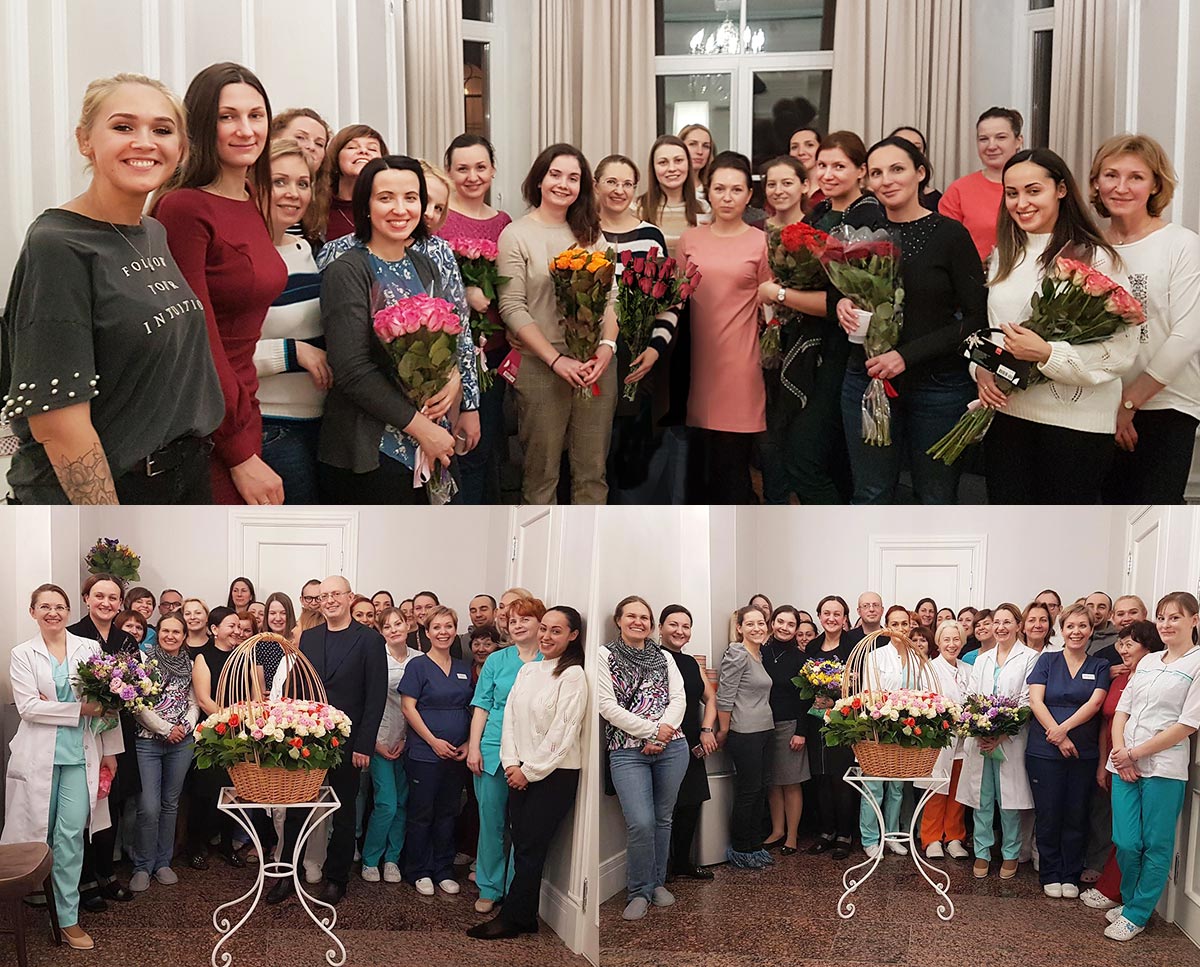 Our team became so big that it became hard to have all my dear people on one photo. Here are some photos of amazing people who cares and looks that many healthy babies are born.

Please join our Webinar to find out more about our clinic and options we can offer:
Our Webinars, skype, phone and e-mail consultations and communication with our team are free of charge. Please use this opportunity for comfortable and informative personalized dialog.