Was für eine Freude!eine Eizellspende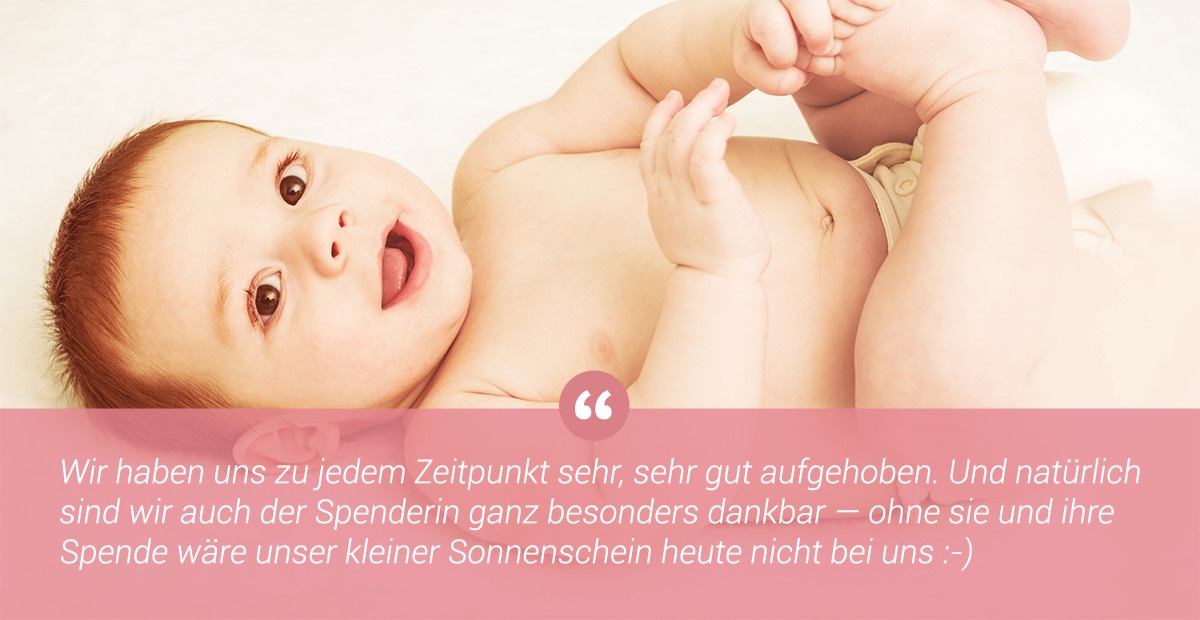 Would you like us to provide you with contact of our patients, who became parents after IVF, egg or embryo donation?
Nochmals vielen, vielen Dank an Frau Dr. Zaytseff und dem ganzen Team der Clinic!

Wir haben die Clinic über das Internet gefunden.

Schon die ersten schriftlichen Kontakte mit Diana waren geprägt von besonderer Freundlichkeit.

Es folgte ein Gespräch mit Frau Dr. Zaytseff per Telefon. Da wurde uns alles ganz ausführlich erklärt und auch die vielen Fragen, die wir hatten geduldig beantwortet.

Wir haben uns nach diesem Gespräch für eine Eizellspende entschieden mit der Möglichkeit, die Spenderin aussuchen zu können.

Nachdem der 1. Versuch im Dezember 2014 leider erfolglos war, wagten wir einen 2. Versuch im Mai 2015. Und nach 10 Tagen wussten wir, dass es geklappt hatte und ich tatsächlich schwanger war.

Was für eine Freude!

Die gesamte Schwangerschaft verlief total komplikationslos und im Februar 2016 brachte ich einen kleinen, gesunden Jungen zur Welt.

Der kleine Mann bringt soviel Freude und Lebendigkeit in unsere mittlerweile 7köpfige Familie.

Wir sind Frau Dr. Zaytseff , Diana, Ekaterina und dem ganzen Team so unendlich dankbar für ihre liebevolle und freundliche Begleitung.

Wir haben uns zu jedem Zeitpunkt sehr, sehr gut aufgehoben und bestens betreut gefühlt.

Und natürlich sind wir auch der Spenderin ganz besonders dankbar- ohne sie und ihre Spende wäre unser kleiner Sonnenschein heute nicht bei uns :)

Wir sind wirklich sehr, sehr froh und dankbar, dass wir diesen Schritt gewagt haben und dass wir dies mit der Klinik getan haben!
06.02.2017
Neuigkeit