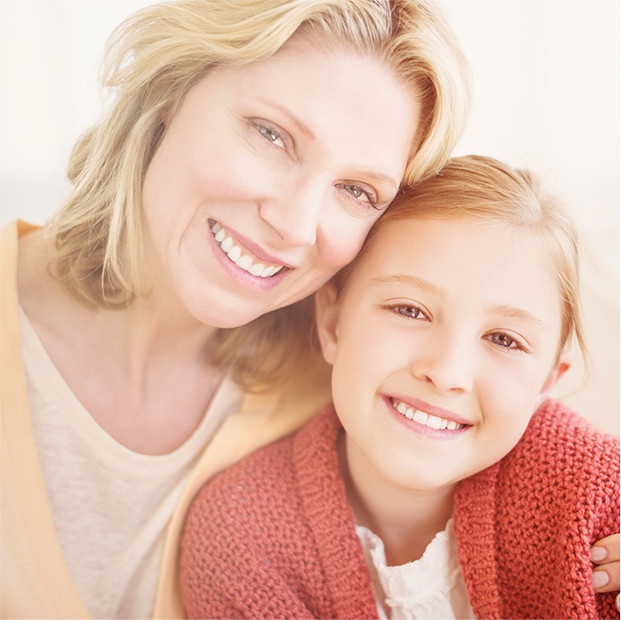 Egg donation is often not the patient's first choice on their journey towards a child. Behind nearly every decision to do egg donation treatment is a history of several failed IVF attempts. However, we are sure that you have done enough to become a mother to a genetic child and we are sure that you have many reasons to be proud of yourself when it comes to everything you have done so far! Now it's time to increase your chances and finally become a mother!
When you have decided to go through egg donation treatment we know that there are a lot of ethical and emotional thoughts and feelings that needs to be sorted out. We know that you want to go through this treatment and feel normal, feel inner peace, and feel that this treatment will finally give you the child that you have wanted for such a long time. The child project involves emotions, money, focus and time and we know you feel that you deserve a result. You deserve to achieve your goal, your wanted child! You will feel It is not logical for you to go through such a demanding project without a result.
Would you like to discuss your situation and see how we can help?
Your maternal instinct affects you
Are you aware that your maternal instinct is actually affecting your thoughts and feelings before your pregnancy? You are wondering if you can bond to your unborn «donor egg baby», if you will feel it's yours, if you are going to tell, or not to tell the child about the conception through egg donation and you are wondering about how the child will react and grow up knowing this?
You see? You already think as a mother, you are concerned on your child's behalf because you want to do your best for your child. You have already started your motherhood! Maybe you want to plan how you will react, think and feel after given birth to your child? Why not trust your instinct? That your love and your maternal ability will develop in relation to your child?
The parents of the child's existence
When you make the decision to undergo egg donation, you make the decision that your coming child will exist. This child would never exist without your decision to use egg donation treatment.
The donor egg fertilized with your partner's sperm is a combination that would never happen without this decision! The donor egg is worthless without sperm, and your uterus. You are totally necessary to create this miracle!
An egg donor doesn't think about her egg donation as giving away a child. An egg donor does not want to be a part of your child's life. The egg donor only wants to help couples to become parents and donate a little necessary puzzle piece to complete the puzzle that you made possible.
You are the mother of this child's existent.
Early bonding to the child
During pregnancy you already start the bonding process with the child. When you feel the child inside of you miracles happen. The child responds to your touch, by displaying more movements as a way of communication. The bond extends beyond language.
If someone asks you to describe your unborn child in the latest months of your pregnancy, we are sure you are able to.
You are the one that knows this child, carrying it and protect this child into this world.
Tell or not to tell your child about egg donation?
To tell, or not to tell your child about its conception through egg donation depend on your values, your ethical point of view, your culture and society and what gives you and your partner inner peace. You don't need to hurry with these decisions. Studies shows, that if you decide to tell, the best age to tell is when the child is between 5 and 7 years old. So you actually have at least 6 years to prepare yourself!
We will give you some good advice about how to tell the child when that times comes.
Wondering how to tell the child and when?
It's not possible to have all the answers now!
It's not possible to have all the answers to all the questions you'll naturally have prior to the birth of your donor egg child!
Patients often have the same questions and concerns prior to committing to egg donation. Many issues we can help you with but it is not always necessary or even possible to come up with all the answers straight away. Some answers will be dependent on how having a baby affects you and your family, the temperament and character of your hoped-for child and the way in which attitudes of our society alter with time.
When considering whether to choose egg donation, you naturally want to gather as many facts and figures as you can, so as to become well informed and confident in your decision-making process. Certainty and confidence in the facts brings reassurance and ultimately inner calm. It is natural to seek inner calm over turmoil and have the conviction that the decision your making is the right one for you. We all want to avoid looking back and having regrets and feeling like we made a bad choice or didn't do the very best for our children. When it comes to egg donation we are no different, we want to do the best we can for our hoped-for child.
These are some of the important questions that patients require to be addressed:
Do I let my child know about the egg donor and her contribution to my child's conception?
If I tell my future child about the egg donation treatment will it create a divide between us?
What will it be like to be a child from a donor egg?
Concerned with these questions?
Ask parents who have children through egg donation!
These important questions unfortunately are not straight forward to answer and the full answers can only be found in the future. Unfortunately, we cannot predict with certainty what the future will hold; all we know is the here and now. Still we naturally seek to resolve these questions prior to making the choice to become pregnant through egg donation.

The way we view it, it is hard to foresee what the correct answers to these questions are prior to a donor egg pregnancy and we say this for the following reasons:
The individual temperament and personality of your future child will impact on any choices you make as to letting them know about being a «donor egg child» or not. We have encountered partners that had made up their mind to tell their child about the egg donation treatment, but as time had passed and they'd grown to know their child they had changed their mind. They felt unequivocally that the child was all theirs and that their child was too sensitive and vulnerable to be able to deal with the information of being a donor egg baby. We have also encountered the converse, couples that had decided upfront not to inform their child about it originating from egg donation, but on getting to know their child they felt that they were withholding a secret and it was their opinion that their child could manage the information positively. Therefore, it is a combination of your outlook, your capability to inform your child positively and your perception of how you think your child will react to the information based on your experience of their personality, that will help you make these decisions.
To determine how it feels to be a 'donor egg child' we must look at how much attitudes have changed in such a short amount of time. Egg donation treatment is progressively becoming more and more accepted in society. Therefore, being a 'donor egg baby' will hopefully become increasingly normalized with time. Your child's feelings to being a 'donor egg child' will in part be down to the attitudes of the era in which they grow up, which is obviously harder to determine as we cannot know the future. But perhaps more importantly, their attitude will be derived from their own personality and the confidence that they have in themselves and in you as a family: based on the love that you have provided them with.
To conclude:
So, you can see it's not always necessary or even possible to have all the solutions to all the questions prior to commencing egg donation treatment. You can only trust in your instincts to make the right choices in the here and now with the best information you can get. You and your feelings may alter over time, but today, you can make a decision about your future baby that feels right for you and them right now.
We know that your desire for a child comes from the energy of your natural maternal instinct. All your worries are based on your care, concern and love for your hoped-for child. That knowledge should allow you inner peace, knowing that you will always do your best for them and this should give you the confidence to be able to make the decisions that are right for you and your future child today: that is, after all, the best that you can ever do!
First generation that does egg donation treatment
We are the first generation that will do egg donation treatment, that is why we need to experience this process by ourselves. We cannot ask our parents how it was for them to go through the same. It is still taboo and not legal in several countries. But what we know is that behind every decision to do egg donation we find love; a lot of love from becoming parents. We find a strong maternal instinct and a perfect family to grow up in! We are sure that you look at egg donation as your best solution and possibility to become a mother. We know that you deserve this alternative after all that you have been through.
We want to help you towards your motherhood, and your dream!
Would you like to discuss your situation and see how we can help?
A mother's letter to her donor egg baby in her stomach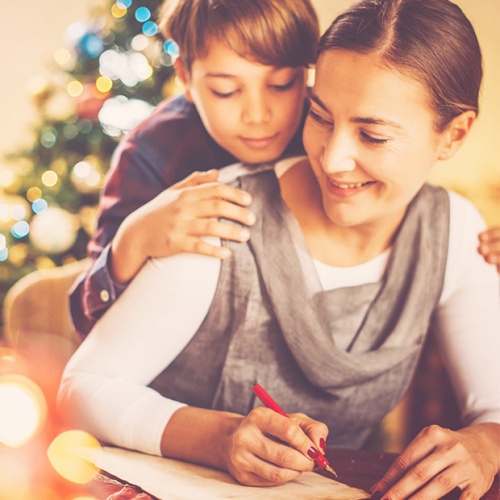 I met with an extremely delighted woman very recently. She informed me that she was in her eight month of pregnancy after her egg donation treatment. Her baby was going to be a little girl and would become sister to her three-year-old little boy.
I have been in touch with this lady before, prior to her becoming pregnant through egg donation. That time she had wanted to discuss her ethical concerns when it came to egg donation, she was worried that she would find it hard to bond with a child that was not genetically linked to her.
I encounter this issue frequently with patients who are preparing for or have just undergone their egg donation treatment. On becoming pregnant after having egg donation treatment the patient is adjusting to their new situation. Time is needed to establish and accept their donor egg pregnancy and to gather their thoughts and emotions when considering the ethical concerns of pregnancy with egg donation. They can require time and support to gain the confidence and self-belief that they really will be able to carry their baby to full term.
How long does it normally take to feel more relaxed, optimistic and confident that she is indeed pregnant and to allow herself to begin bonding with the baby growing within her?
I often observe that this miraculous emotional transition happens on seeing her body begin to change shape and feeling the presence of the baby within her. This has a calming influence, allowing her to believe in her pregnancy and giving her the confidence and freedom to emotionally bond with her baby that she is nurturing.
The women I spoke to recently was certainly no longer fearful, she was joyous and open about her loving feelings to her donor egg baby developing and thriving within her; this was her baby and hers alone!
I asked her if she would mind putting down in words her experience throughout her pregnancy. She was more than happy to, so that she could help reassure others who are fearful about a pregnancy after egg donation. As she had taken to composing letters to the baby in her uterus, she suggested that she could write her thoughts down in the form of one of these letters.
These are the words she put down: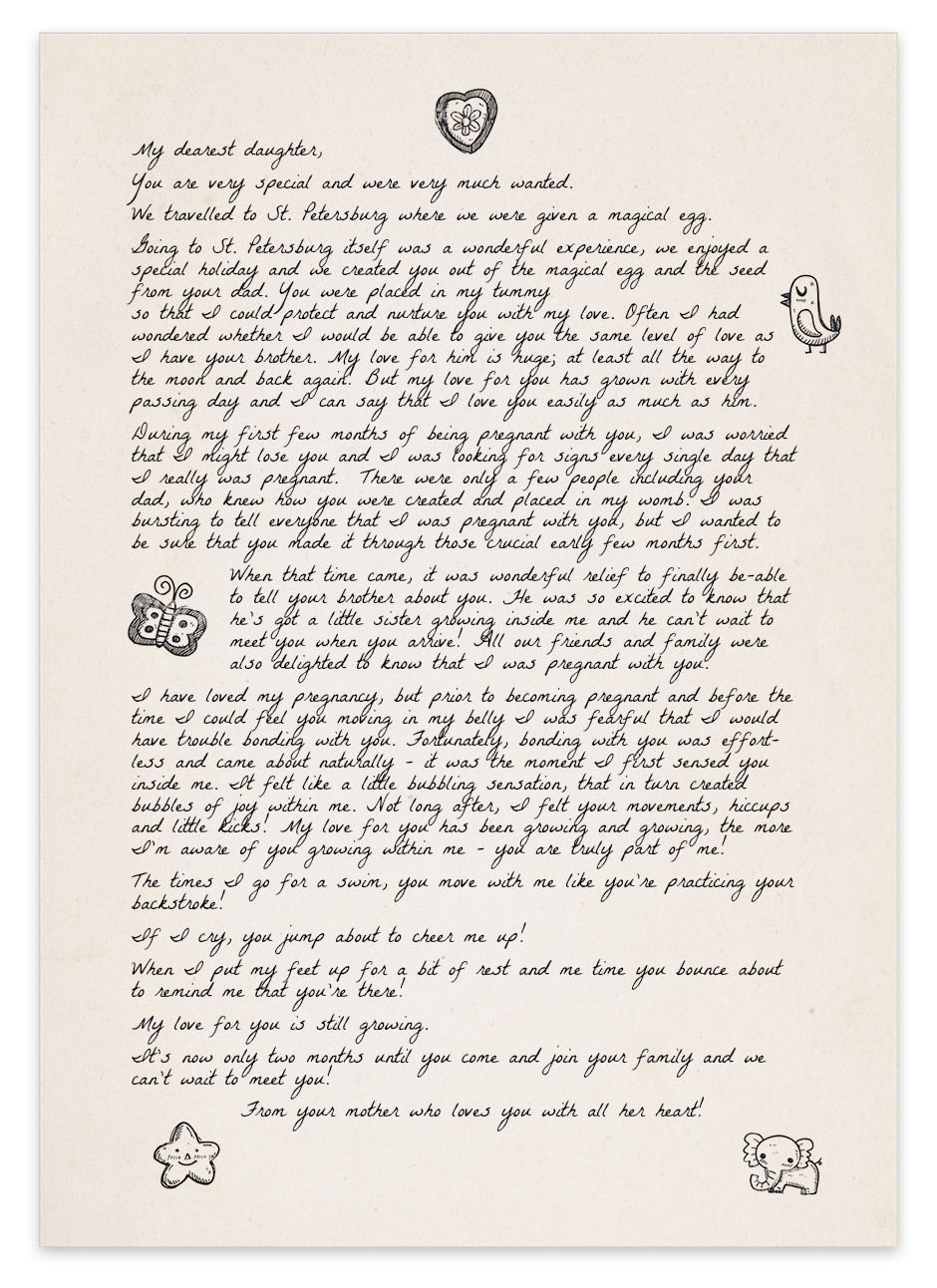 My dearest daughter,

You are very special and were very much wanted.

We travelled to St. Petersburg where we were given a magical egg.

Going to St. Petersburg itself was a wonderful experience, we enjoyed a special holiday and we created you out of the magical egg and the seed from your dad. You were placed in my tummy so that I could protect and nurture you with my love. Often I had wondered whether I would be able to give you the same level of love as I have your brother. My love for him is huge; at least all the way to the moon and back again! But my love for you has grown with every passing day and I can say that I love you easily as much as him.

During my first few months of being pregnant with you, I was worried that I might lose you and I was looking for signs every single day that I really was pregnant. There were only a few people including your dad, who knew how you were created and placed in my womb. I was bursting to tell everyone that I was pregnant with you, but I wanted to be sure that you made it through those crucial early few months first.

When that time came, it was wonderful relief to finally be-able to tell your brother about you. He was so excited to know that he's got a little sister growing inside me and he can't wait to meet you when you arrive! All our friends and family were also delighted to know that I was pregnant with you.

I have loved my pregnancy, but prior to becoming pregnant and before the time I could feel you moving in my belly I was fearful that I would have trouble bonding with you. Fortunately, bonding with you was effortless and came about naturally – it was the moment I first sensed you inside me. It felt like a little bubbling sensation, that in turn created bubbles of joy within me. Not long after, I felt your movements, hiccups and little kicks! My love for you has been growing and growing, the more I'm aware of you growing within me – you are truly part of me!

The times I go for a swim, you move with me like you're practicing your backstroke!

If I cry, you jump about to cheer me up!

When I put my feet up for a bit of rest and me time you bounce about to remind me that you're there!

My love for you is still growing.

It's now only two months until you come and join your family and we can't wait to meet you!

From your mother who loves you with all her heart!
Danish woman aged 44
My wish is that this letter will reassure patients and help them to overcome some of their emotional and ethical dilemmas and concerns about becoming pregnant after egg donation. I also hope that it will encourage and comfort patients that can relate to these feelings in the early period of their pregnancy.
Believe in your motherly instincts and have confidence that your affections for your child will emerge and flourish, even though you may have needed a little assistance from a magical egg :)
Tone Braten, Family counsellor

Would you like to talk to parents who have children through egg donation!