Egg donation is not the method of choice — it is the method of exclusion
"Three times I went to Russia to pick up some eggs. Six embryos tested by PGS and one was good ))) This little embryo was born when I was 44 and the egg they used was from me when I was 43…"
Susanne
So you have been trying for some time, experienced medical complications or have been suffering from a particular condition which has now ment that IVF has been advised to be the next step for you to achieve the baby of your dreams; this advice may now mean a confusing and worrying time for the couple. That is why at O.L.G.A. Fertility Clinic we know, through years of experience, that by combining in depth support and advice along with excellent medical care and success can help you fulfill your dreams!
IVF is a multiple-step process that consists of ovary stimulation through the use of medication, oocyte retrieval, egg fertilization outside the body (using ICSI if required), embryo transfer into the uterus and finally vitrification of remaining embryos . This medical process in stages is described in detail in the part procedure and medication.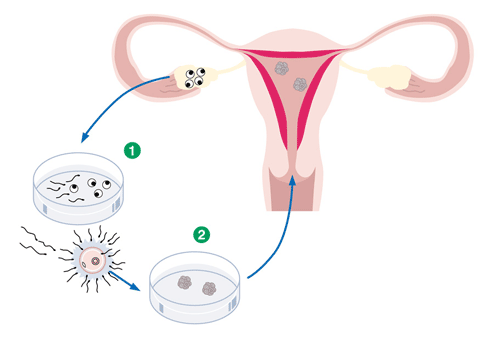 Petri dish
Embryos
In-vitro fertilization (IVF) is the procedure of fertilization outside the body and subsequent transfer of an embryo into the uterus. Primary indications for IVF are the following: fallopian tubes dysfunction meaning that the egg and sperm cannot meet, decrease in sperm quality, endometriosis or unexplained infertility. The efficiency of IVF treatment depends on multiple factors for example type and a period of infertility. However the most important factor is female age.
We are very happy and proud of our success rates in both IVF and ICSI treatments with own women's eggs which are high due to individually designed pretreatment and stimulation protocols. Even without PGS, including the patient group of advanced reproductive age and gladly present the results below:
Clinical pregnancy rates in IVF cycles
with own eggs according to female age
IVF

2014

2015

ET

Pregnancies

Clinical pregnancy rates

ET

Pregnancies

Clinical pregnancy rates

≤ 34

672

363

54,0%

747

417

55,8%

35-39

459

207

45,1%

436

220

50,5%

≥ 40

158

36

22,8%

181

49

27,1%
As you already know the success rates of IVF and ICSI with own eggs decline with the age of a woman. This happens due to the egg aging process which starts after 30 and results in chromosome abnormality in more and more eggs, which makes them incapable of creating a healthy ongoing pregnancy and/or a healthy child.
In women:
20-25% eggs are already abnormal in the age of 30
40-45% of eggs are abnormal in the age of 35
70-75% of abnormal eggs in the age of 40
Almost all eggs are abnormal after the age of 42
Interested in receiving treatment at our clinic and being able to access our excellent levels of care and success?